Wrightslaw From Emotions to Advocacy Training
with Pat Howey, Paralegal and Advocate
Savannah, Georgia, October 24, 2008

From Emotions to Advocacy, a Wrightslaw training program with Pat Howey, is being sponsored by The Matthew Reardon Center.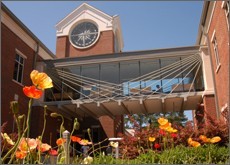 The program will be held at:
The Armstrong Center for Professional and Continuing Education
11935 Abercorn Street
Savannah, GA 31419

Program Description
In From Emotions to Advocacy training programs (one day, 6 hours), parent advocate Pat Howey teaches you how to take an active role in managing your child's special education, the gentle art of disagreeing, and how to maintain healthy working relationships with the school.
You will learn:
how to assess your child's strengths and needs
how to prepare a Parent Report for the IEP team
how to build healthy working relationships with school personnel
how to document information that may prevent or resolve disputes
how to participate as an equal member of your child's IEP team
Wrightslaw programs are designed to meet the needs of parents, educators, health care providers, advocates and attorneys who represent children with disabilities regarding special education. The program is not disability specific.
Agenda
8:00-9:00 a.m.
Registration
9:00-10:30 a.m.
Overview of agenda

Review of Applicable Sections of Reauthorized IDEA 2004
Preparing for IEP Team Meetings–The Parent Report
Taming the Paper Trail
Present Levels of Academic Achievement Strengths, Challenges, Needs Goals/Benchmarks
Words of Advice to Parents and Schools

10:30-10:45 a.m.
Break
10:45-12:00 p.m.
Tests & Measurements & the Bell Curve
12:00-1:00 p.m.
Lunch
1:00-2:30 p.m.
Playing the IEP Game

Understanding the Power Structure
The Art of Negotiation
When the answer is "No"
The Rule of Threes
The Delphi Techniques

2:30-2:45 p.m.

Break

2:45-4:00 p.m.

The Gentle Art of Disagreeing

The Four Parent Rights
Why IEP Teams Disagree
Why Disagreement is Healthy
Both Sides Can be Right at the Same Time
The Written Opinion – What, Who, Why, When, & How

4:00-4:30 p.m.
Questions and Answers
Registration
Your registration includes a boxed lunch, along with Wrightslaw: From Emotions to Advocacy, 2nd Edition ($19.95 retail value).

Online registration will be available soon.
Questions? Please contact Jennifer McGee, Advocacy/Education Specialist by phone 912-355-9098, fax 912-3522460 or email jennifermcgee4@comcast.net.
Additional Information: CEU's (continuing education units) and CLE's (continuing legal education) credits are pending.
Wrightslaw programs often fill up early! Space is limited - don't miss out! Register today!
Logistics, Directions, Accommodations
Directions
Please click here for directions from MapQuest.
Parking
Free parking is available.
Airports
Savannah/Hilton Head International Airport
400 Airways Avenue
Savannah GA 31408
Approximately 20 miles from conference location.
Accommodations
For a list of local hotels click here.
Restaurants
There are many wonderful restaurants to choose from in the area..
We built the Georgia Yellow Pages for Kids with Disabilities so people can get reliable information and support.

The State Yellow Pages has many useful resources - evaluators, educational consultants, academic tutors, support groups, grassroots organizations, advocates, attorneys and others who help parents get services for their children.

If you provide a service, sign up to be listed on the Yellow Pages for Kids with Disabilities - this is a free service from Wrightslaw.
To Wrightslaw Seminars & Training