Wrightslaw Special Education Law & Advocacy Seminar
Atlanta, GA (July 19, 2006)
This Wrightslaw Special Education Law and Advocacy Training Program is sponsored by The National Fragile X Foundation as part of the 10th International Fragile X Conference.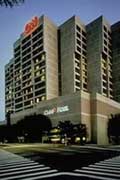 The conference will be held at:
Omni Hotel CNN Center
100 CNN Center
Atlanta, Georgia 30303
Phone: (404) 659-0000
Fax: (404) 525-5050
Program Overview
This is a full-day (6 hour) program that focuses on:
* Special education law, rights and responsibilities under IDEA 2004
* Tests and measurements to measure progress & regression
* SMART IEPs
* Introduction to tactics & strategies for effective advocacy
This program is designed to meet the needs of parents, educators, health care providers, advocates, and attorneys who represent children with disabilities regarding special education, and is not disability specific.
Agenda
8:00-9:00
Registration
9:00-10:30
Introductions & Review Agenda.
Overview: Individuals with Disabilities Education Act (IDEA 2004); Findings and Purposes; Definitions; "Catchall Statute" - Least Restrictive Environment (LRE), 10-day Notice, State Assessments, Accommodations
10:30-10:45
Break
10:45-12:00
IDEA 2004 (cont'd): Evaluations; Individualized Educational Programs (IEPs); Procedural Safeguards; Tests & Measurements & the Bell Curve
12:00-1:00
Lunch
1:00-2:30
Review; Section 504; No Child Left Behind Act; Tests & Measurements & the Bell Curve (review); SMART IEPs; Advocacy Strategies - Rule of Adverse Assumptions & Crisis Management
2:30-2:45

Break

2:45-4:00
Advocacy Strategies (cont'd): Conflict; Obstacles to Effective Advocacy; Negotiating; Organizing the File; Comprehensive Psychoeducational Evaluation; Letters & Paper Trails; School Meetings: Preparation & Survival Strategies
4:00-4:30
Questions and Answers
Registration

Your registration fee includes two books: Wrightslaw: IDEA 2004 and Wrightslaw: From Emotions to Advocacy, 2nd Edition (value: $34.90.)
Register for the International Conference and Wrightslaw seminar on The National Fragile X Foundation site.

Questions? Please call the The National Fragile X Foundation at 800-688-8765 or 925-938-9300 or email deborah@fragilex.org
Accommodations, Directions, Attractions
Accommodations



Accommodations are available at the Omni Hotel CNN Center, a luxurious AAA Four-diamond hotel located in the heart of downtown within the CNN Center Complex. Each guestroom offers views of the downtown skyline or the CNN Center Atrium or Centennial Olympic Park.
Learn more about accommodations.

Parking is available at the hotel for $8./hour, $2 /additional hours, maximum fee of $20. per day.
Airport. The hotel is located 15 minutes from Atlanta Hartsfield International Airport.
Directions
For directions, go to mapquest.com, type in your address and the address of the Omni Hotel, 100 CNN Center, Atlanta, Georgia 30303.
Download a map and driving directions from The Omni Hotel site.
Lunch is on your own. The hotel has two sit down restaurants, Jock's and Jill's and Don Juan's Mexican Cantina. Dining options
The Omni Hotel CNN Center has a food court with several fast food restaurants:
| | | |
| --- | --- | --- |
| Arbys | Fuji Express | Roman Delight |
| Blimpy's | Gorin's Cafe | Starbuck's |
| Chick-Fil-A | Great Wraps | Wendy's |
| China Breeze | Le Petit Bistro | Rimini Pizza |
Note: The Wrightslaw program is being sponsored by The National Fragile X Foundation as part of the 10th International Fragile X Conference between July 19-23, 2006. For more information about the 10th International Fragile X Conference and other educational and training opportunities, please visit The National Fragile X Foundation site.
Nearby Attractions

* Adjacent to Philips Arena, Georgia Dome and the Georgia World Congress Center, one of the largest sporting, entertainment and convention complexes in the world.
* Located within CNN World Headquarters, home of CNN News, CNN Headline News, Braves Clubhouse Store
* Across the street from Centennial Olympic Park, a 21-acre park honoring the 1996 Olympic Games featuring the dramatic Olympic Fountain of Rings, Water Gardens and Quilt Plaza
* 4 blocks to Imagine It! The Childrens Museum of Atlanta
* 6 blocks to Underground Atlanta, a downtown hotspot for shopping, dining and entertainment.

For more information about things to do, visit the Atlanta Convention and Visitors Bureau
Yellow Pages for Kids with Disabilities
We designed the Yellow Pages for Kids with Disabilities so you can get reliable information and support.
Your state Yellow Pages for Kids has many helpful resources - evaluators, educational consultants, academic tutors, support groups, grassroots organizations, advocates, attorneys and others who help parents get services for their children.

If you provide a service, sign up to be listed on the Yellow Pages for Kids with Disabilities - this is a free service from Wrightslaw.
To Wrightslaw Training and Seminars
---