Jacksonville, FL - May 16-17, 2003
This Wrightslaw Boot Camp is sponsored by Duval County Public Schools in collaboration with The Parent Leaders Forum, Jacksonville Children's Commission, Commission on Services for Children with Special Needs, Infants and Toddlers Early Intervention Program, First Coast Autistic Society, Florida Diagnostic and Learning Resource System/ Crown Region, ASK at Arc Jacksonville, and Riverside Presbyterian Church.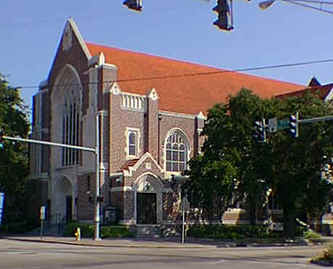 The seminar will be held at:
Riverside Presbyterian Church
Kissling Auditorium
849 Park Street
Jacksonville, FL 32225
For information, please email: Charlotte Temple, Advocacy Director ARC Jacksonville or call ASK at Arc of Jacksonville (904) 358-1200. If you need special accommodations call FDLRS/Crown: (904) 348-7789.

Learn more about Wrightslaw Training & Conferences.
Registration is FREE for residents of Baker, Clay, Duval, Nassau, and St. Johns Counties!
For Florida residents, registration for the two-day training program is $60.00 ($20. for second parent, 1 set of books)
For non-Florida residents, registration is $70.00 ($40. for second parent, 1 set of books)
All registrants will receive two books - Wrightslaw: Special Education Law and Wrightslaw: From Emotions to Advocacy (value: $59.90) - what a great deal!
14 CLE credits available for FL attorneys - call (904) 358-1200 for details.
Boot Camp Agenda

Please download the flyer for details and registration information.
Lunch will not be included in the conference fee. Check the VisitJacksonville.com website to find restaurants nearby.
Directions from Map Quest. Simply go to www.mapquest.com and fill in your personal information and Riverside Presbyterian Church, Kissling Auditorium, 849 Park Street, Jacksonville, FL 32225.

Accommodations: Below is a list of nearby hotels, inns and motels if you are planning to stay for a day or two. Jacksonville has many attractions - beautiful beaches, nature excursions, art galleries, historical sites, and great shopping (scroll down for more info)
Best Western Hotel, 4660 Salisbury Road, Jacksonville, FL 32256, (866) 833-9330

Candlewood Suites, 4990 Belfort Road, Jacksonville, FL, (904) 296-7785

Holiday Inn Express, 4675 Salisbury Road, Jacksonville, FL 32256, (904) 332-9500

Marriott Hotel, 670 Salisbury Road, Jacksonville, FL 32256, (904) 296-2222

Red Roof Inn, I-95 _& J Turner Butler Exit#101, (904) 296-1006

Residence Inn - Marriott, 10551 Deerwood Parkway, (904) 996-8900
Downtown Jacksonville
Adams Mark Hotel, 225 E. Coastline Drive, (904) 633-9095

Extended Stay America, 1413 Prudential Drive, (904) 396-1777

Hilton Jacksonville & Towers, 1201 Riverplace Blvd., (904) 398-8800

Hampton Inn Central, 1331 Prudential Drive, (904) 396-7770

Omni Hotel, 245 W. Water Street, (904) 355-6664

Radisson Hotel, 1515 Prudential Drive, (904) 396-5100
Attractions: Jacksonville has something to offer everyone. For information, contact the Visitor Information Department at (800) 733-2668, Ext. 10, (904) 798-9111, Ext. 10 or via e-mail at visitorinfo@jaxcvb.com
miles of uncrowded beaches
ecological and nature based excursions
world-class golf courses
top-of-the-line tennis facilities and other recreation
historical sites and architecture
sporting, gaming and cultural activities
unique shopping and dining
nightlife and entertainment
festivals and events
a riverfront festival marketplace and river cruises

Yellow Pages for Kids with Disabilities
We built the Florida Yellow Pages for Kids with Disabilities so people can get reliable information and support. Your state Yellow Pages includes many resources - government programs, grassroots organizations, and parent support groups.
We are adding evaluators, educational consultants, academic tutors, advocates, attorneys, and others who help parents get services for their children. The Yellow Pages are a free service. If you are interested in being added to the yellow pages please send us an email.

Back to Wrightslaw Schedule Page
---