From Emotions to Advocacy Cruise -
The Inside Story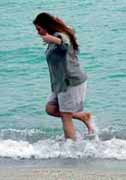 "I loved spending time with you guys on the cruise . . . it's definitely the best way to go!" Treva, Tennessee

"Thanks for a great cruise. I have been slammed with work on returning, but the cruise gave me the energy to do it." Mark, Florida attorney
On Friday, January 18, 2002, the cruise ship Fascination returned to Miami after a 5 day cruise in the Western Caribbean.
On board were parents, advocates, and attorneys who joined Pete and Pam Wright on the "From Emotions to Advocacy Cruise - A Very Special Cruise Seminar and Fund-Raiser for Special Education." It's time to share the inside story of the FETA Cruise!
"The cruise was awesome -- and frustrating because there was not enough time to absorb the rich resources! Would I do it again? Oh, yes. It was wonderful! Any way that I can help, count on me! - Fran, New Hampshire Advocate
The Idea
Cruise organizer Geri Brown explains, "I am the mother of two sons with learning disabilities. I have experienced the frustration and heartbreak of attempting to gain an appropriate education for my children."
"I felt that offering a seminar and training program on special education law and advocacy onboard an enjoyable cruise ship would give everyone the chance to learn, share, relax (I know the stress level!) and enjoy."
The Reality
Geri was right - cruising is a great way to learn, relax, and make new friends. While the ship was at sea, participants attended advocacy training sessions with Pete and Pam Wright and Mark Kamleiter, Esq., founder of the Florida Advocacy group, STAND [photo of Mark]

We learned together. We took meals and played together. For five days, we talked, shared experiences, networked, and made new friends. We relaxed and had fun!
The ship stopped in Key West and Cozumel. Key West has dozens of unique galleries, shops and restaurants that serve great seafood.

Cozumel's reefs are famous for scuba diving. We sailed on a high speed catamaran to a secluded beach and snorkeled in beautiful clear water.
"A picture is worth a thousand words." These photos tell the "inside story" of the FETA Cruise.

From Emotions to Advocacy Cruise
On the first night, we met at the "Get Acquainted Cocktail Party."

Wonderful food and drink too!

During the day, we got together for advocacy training with Pete, Pam and Mark Kamleiter.

Pam talks to Sonja Kerr and
Brice Palmer about a book project.

Very exciting!

We sailed on Fury, a high speed catamaran, to a beautiful beach where we snorkeled and swam.

Fascination is the big ship in the background.


And we went snorkeling -- so many beautiful tropical fish!

On the last day at sea, we returned to class.

We fought sleep - and some of us lost the battle!
Photo of our group, taken on last night of the cruise.

Can you imagine how long it took to get this group arranged?

Our photographer was a patient, persistent perfectionist!
What was the cruise really like?

Scroll back up to the top of this page and look at the first photo - the one on the right. Now you know the "inside story."
What People Are Saying . . .
"The cruise was a wonderful experience. It was great to meet so many super people."- Linda, Ohio
"I learned strategies to utilize in my advocacy - I will use the PowerPoint trick this week. I left the cruise with better negotiating and preparation skills. I am reading the FETA book for the second time. You and Pete did a wonderful job." - Angie, New Hampshire

"What a wonderful cruise! We want to do it again next year." - Nancy, Georgia