Wrightslaw Partners with Cell Phones for Soldiers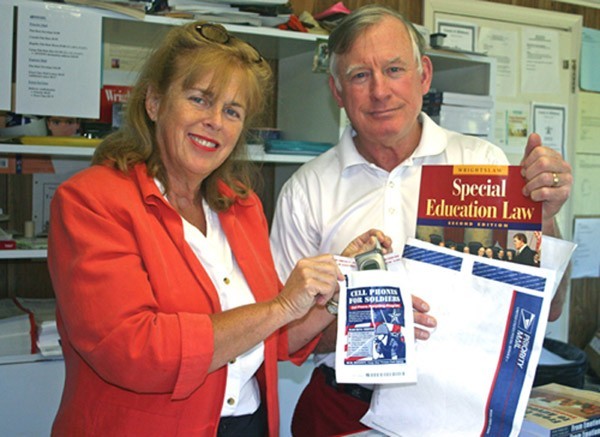 Here's How You Can Help
When you receive your order from Wrightslaw, you'll find a Cell Phones for Soldiers mailer tucked inside. Place unused cell phones in the envelope and drop in the nearest mailbox. That's it! No postage required.
After our son left for Iraq, we asked ourselves, "What have we done to 'support the troops?'" The answer: "Not much." We decided to learn all we could about how ordinary people - like us and you - could support the men and women who are serving in Iraq and Afghanistan.

Be a Hero

In November 2007, we put information about how we all can help on the "Be a Hero" page.
The Cell Phones for Soldiers program, created by two young heroes, Brittany and Robbie Bergquist, was a perfect match for Wrightslaw.
The Bergquists have always been involved in the special education community. Gail, a special education teacher, has been teaching students with learning disabilities since 1978. Bob, a middle school teacher, has a Master's degree in Special Education. Older sister Courtney who graduated this year, worked extensively with learning disabled and ELL students.

We are pleased to partner with the Bergquists and the Cell Phones for Soldiers program by including recycling mailers in all orders of Wrightslaw products.

Do you have a business, school, group or organization? Become a drop-off point for Cell Phones For Soldiers.
Find out how to donate a phone and print a shipping label.