Good Grades: Does My Child Still Need Special Instruction?
By Patricia Howey
Question: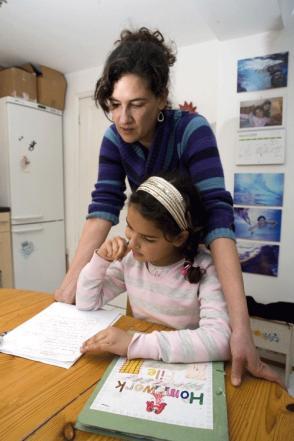 I spend hours helping my child with homework each night. She still struggles and is getting frustrated. I keep asking the school to evaluate her but the principal says her grades are too good. What should I do?
Answer: First, IDEA states that a child does not have to fail or be retained to be considered for special education and related services. 34 C.F.R. §300.101(c). Wrightslaw: Special Education Law, p. 204.
People at school do not always know what the law says. You may want to show the principal this section.
Special Instruction and Related Services
A child who is making good grades may still need special instruction and related services.
Teachers give out grades based on many different factors.
Some teachers allow students to improve their grades by doing extra credit work.
Other teachers base grades on class participation, a good attitude, or citizenship.
Teachers may also give a student a better grade because the child is trying very hard to do good work.
These kinds of grades do not mean a child is learning.
Think of it this way. Ask any good teacher this: "Did you ever pass a child who was failing because you knew she was trying very hard?" If the teacher answers, "Yes," they are basing a child's grade on "effort".
Effort does not mean the child is learning.
Almost all teachers will do this. They do not want to fail a child who is trying.
It sounds like your little inner voice is telling you that your child needs an evaluation to see whether she needs special education and related services. Listen to your little inner voice! It is usually right.
You Need Information about Your Child's Disability
You also may want to get an Independent Education Evaluation (IEE). Be sure to tell the evaluator how much help you give your child every day. A good evaluator will use reliable and valid norm-referenced tests. He will look for processing deficits and will be able to identify your child's needs.
A good IEE will give you information about all areas of your child's disability.
A good IEE will tell the real story about whether your child needs special instruction.
Finally, a good IEE will provide the teachers with helpful information about how to teach your child.
---
Related Articles
My Child is Being Evaluated - What Tests Should I Request? Pat offers advice about evaluations, how to use tests to measure progress, how to use your state laws about testing, and how to find an evaluator with whom to work.
Is a Child With Passing Grades Eligible for Special Ed Under IDEA? My child has struggles in school so we provide private tutoring and work with him at home. The school says he is not eligible for special ed because he does not have failing grades. What does IDEA say?
Read more about Evaluations and Eligibility
---
Meet Pat Howey

Pat Howey has a B.A. in Paralegal Studies from Saint Mary-of-the-Woods College where she graduated with honors.

Pat is an active member of the Council of Parent Attorneys and Advocates (COPAA) and other organizations. The Learning Disabilities Association of Indiana honored Pat with its Outstanding Service Award for her commitment and compassion towards students with disabilities.

As a member of the Wrightslaw Speakers Bureau, Pat provides training for parents, educators, and others who want to ensure that children receive quality special education services. Wrightslaw special education law and advocacy programs are designed to meet the needs of parents, educators, health care providers, advocates, and attorneys who represent children with disabilities.

"Changing the World -- One Child at at Time."
Contact Information
Pat Howey
Special Education Consulting
POB 117
West Point, Indiana 47992-0117
Website: patriciahowey.com
Email: specialedconsulting@gmail.com

To Top


Created: 01/20/2012
Revised: 05/26/2016