No Child Left Behind
- Wrightslaw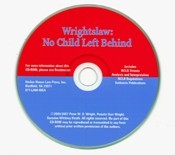 Note: Congress has begun the reauthorization of the Elementary and Secondary Education Act (ESEA), the statute formerly known as No Child Left Behind.

Due to the impending reauthorization, we will not order a reprint. If you want a copy of the NCLB statute, it is available on CD-ROM for a discounted price of $14.95.

The Wrightslaw No Child Left Behind CD-ROM includes the full text of the NCLB statute, regulations, dozens of publications, and references.
[Contents of CD-ROM]

No Child Left Behind at Wrightslaw includes articles, publications, and other resources about No Child Left Behind Actincluding reading, research based instruction, annual proficiency testing, parental involvement, tutoring and supplemental educational services, highly qualified teachers, transfers from failing schools, and public school choice.

No Child Left Behind - Wrightslaw is the companion website to Wrightslaw: No Child Left Behind by Peter W. D. Wright, Esq., Pamela Darr Wright, and Suzanne Whitney. About the book
Internet Orders

How NCLB at Wrightslaw is Organized
---
Wrightslaw: No Child Left Behind

Wrightslaw: No Child Left Behind
(ISBN: 1-892320-12-6) by Peter W. D. Wright, Pamela Darr Wright and Suzanne Whitney Heath includes:
Full text of the No Child Left Behind Act
Analysis, Interpretation & Commentary
Advocacy Strategies, Tips & Sample Letters
No Child Left Behind CD-ROM of Publications & Resources
Learn what the law says about -
Scientifically Based Reading Instruction
Proficiency Testing in Reading, Math, Science
Free Tutoring, Summer School, After-School Programs
Transfers from Failing Schools and School Choice
New Qualifications for Teachers and Paraprofessionals
Bonus Pay, Stipends, Scholarships for Teachers and Principals
Teacher Liability Protection
Bonus! The Wrightslaw: No Child Left Behind CD-ROM includes the full text of the NCLB statute with overviews and commentary, NCLB regulations, dozens of guidance publications from the U. S. Department of Education and other references and resources. (contents of CD)

Internet Orders l Fax, Phone & Mail Orders l Exam Copies
---
Free Newsletters & Electronic Journals
The Achiever - No Child Left Behind newsletter published by U. S. Department of Education.
The Beacon: The Journal of Special Education Law and Practice, a multi-disciplinary electronic journal of special education law and practice. Includes articles and essays for attorneys and advocates who represent children with disabilities and others who are interested in special education legal topics.
ED Review - Bi-weekly newsletter from U. S. Department of Education.
EducationNews - links to education news around the world, commentary, more.
The Special Ed Advocate, a free weekly newsletter about special education topics from Wrightslaw.


To Top
Revised: 07/21/11
Created: 6/1/04