It's IEP time! Soon parents will be meeting with the IEP team to review your child's IEP. The IEP is the heart of your child's special education program.
Do you know how IEPs changed under IDEA 2004? Do you know the legal requirements for IEPs?

Are you worried that your child is not making progress in the special ed program?

Are you frustrated with one-size fits all IEPs that are not tailored to your child's unique needs?

Do you feel intimidated at IEP meetings?
You aren't alone!
For the next several weeks we will publish a series about IEPs. When you master this information, you will be prepared for the next IEP meeting!
In this issue of the Special Ed Advocate you'll find guidance about writing IEP goals & objectives and tactics & strategies to improve your advocacy skills for getting good IEPs.
Don't miss how to make a video

for the IEP team.
Please don't hesitate to share this issue with other families, friends, and colleagues.
---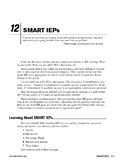 What makes writing IEPs so difficult and the process so confusing?
Diane writes: "Help! I need to find good IEP goals!"
"I know my son's IEP is inadequate. The school's only goal for him is 'Commitment to academic success.' If 'Commitment to academic success' is not an appropriate goal, what should I propose in its place?"
Mary writes: "Help! I need good IEP goals and objectives!"
"I am a first year special education teacher. I need to see some good IEP goals. I haven't had enough experience with this and need to feel more secure in this area. Can you point me in the right direction?"
Diane is a parent, Mary is a special education teacher. Diane and Mary represent thousands of people who write to us every year with questions about writing IEPs.
In the Wrightslaw Game Plan: Writing SMART IEPs, you learn how to:
identify your child's needs
write measurable goals, and
develop SMART IEPs.
You will also learn how you can download a fr-*-e copy of Chapter 12 about SMART IEPs from Wrightslaw: From Emotions to Advocacy, 2nd edition)
Learn more about IEPs.
---
It's time to take a closer look at the legal requirements of IEPs. If you have questions about IEPs, please look at our new multi-media training program, Legal Requirements of IEPs. The program shows you exactly what the law requires.
When Congress reauthorized IDEA 2004, they made significant changes to Individualized Education Programs (IEPs) in several areas.
How did IEPs change under IDEA 2004? For the answers, read IDEA 2004: Roadmap to the IEP
You need to learn the new rules and tactics and strategies for avoiding a battle. When you learn the rules, you reduce the risks when you negotiate for your child.
How can you get good goals in your child's IEP?
What can you do if the school wants to use "teacher observations," not objective testing in the IEP?
Many IEPs do not provide individualized educational services that focus on teaching the child to read, write, or do math, but focus on accommodations and modifications.
Do you know how to get the IEP team to focus on the real issue?
Read Good IEPs: A Tactics and Strategy Session by Pete and Pam Wright.
In this wide-ranging interview by the President of a state LDA chapter, you will learn about:

* requirements for present levels of academic achievement & functional performance
* how to use a private educational consultant
* requirements for measurable academic and functional goals
* accommodations and modifications
* impact of low expectations
* how to avoid methodology disputes
* tutoring & how to find qualified tutors
* response to intervention (RTI)
* extended school year (ESY)
* the parent's (active) role


---
Is your child learning and progressing? Is your child's IEP individualized to meet his unique needs?
What Can You Ask the School to Do? Sue Whitney, Research Editor at Wrightslaw, provides a step-by-step guide that parents who disagree with the school's IEP can use.
Read what one mother says the school thinks of her son.
"After a year in the resource class, he is not learning to read. He is failing math, and barely passing his other subjects. The teacher wants to retain him. He thinks he's stupid and feels hopeless - he's only 8 years old.
What would you ask the IEP team to do?
Your child's IEP is based on evaluations. Evaluation results contain the most current information about your child's present levels of academic achievement and functional performance.

The IEP team should use current information about your child's levels of performance as the basis of his IEP. In this article, What Can I Ask the School to Do?, Sue answers questions about how to prepare for IEP meetings, present levels of academic achievement, and what parents can ask the school to do.
---
Tiffany wanted to introduce her son, Alex, to the IEP team in a positive way. She wanted the IEP Team to see Alex as a child, not a label or a diagnosis with a set of issues and problems.
SO..........Tiffany and Alex made a video. If you would like to do something similar, here's how. Read Making a Video for IEP Meetings. Tiffany shares her
and the successful results. Watch the video.
Sometimes the best way to approach an IEP team is through the heart.
On the blog, Nan offers some interesting ideas about how to approach the IEP team.
"Appeal to IEP team members' better instincts by presenting persuasive evidence. Can you invite the IEP team to your home to see him read? Videotape him? Get credentialed professionals to evaluate and report? Think outside the box."
You'll get more great ideas and answers to your questions when you blog - the Wrightslaw Way.
---