Alert! Call to Action
Contact VA Governor Tim Kaine TODAY!
To retain essential rights for children & parents, we need a landslide of calls, letters & email - before December 10th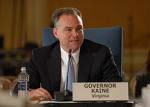 Governor Tim Kaine's office is in the process of making decisions about the final special education regulations.
Governor Kaine needs to hear the powerful voices of parents, family, friends, and other advocates of children with disabilities.

We need to remind the Governor that parents and advocates are not asking for new or more rights for our children. We are asking the Governor not to allow our children's existing rights and protections be taken away.

There is no justification for reducing the rights and protections for Virginia's children with disabilities and their parents.

In a March 21, 2008 Memorandum, Governor Kaine wrote: "I have concerns about proposals in this regulation that reduce parental involvement in key decisions made about their children. These include, but are not limited to ..." Click to read Governor's concerns
We must ask the Governor to return these regulations to the VDOE so they can reinstate the rights and protections eliminated from the proposed regs.
Call or email NOW!

This is our last chance to help Governor Kaine understand our concerns and fears about eliminating protections for our children.
We need to remind Governor Kaine that the regulations presented by VDOE represent a significant shift away from Virginia's longstanding commitment to parent-school partnerships and protecting our most vulnerable children.
This is your chance to be heard!

We want to ensure that Governor Kaine receives a landslide of phone calls, emails and letters from parents, advocates, and others on this issue. Please forward this alert to other families, friends, and colleagues. Ask them to contact Governor Kaine to express their concerns about these regulations.