In This Issue ...
Circulation: 98,175
ISSN: 1538-320
January 27, 2015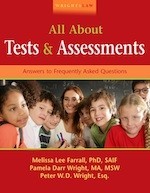 Wrightslaw: All About Tests and Assessments is now available as an E-book for the Kindle, Nook, iPad, and other digital readers.


The new E-book is selling at a 35% discount from the print edition.
Not sure which E-book format is right for you? FAQs
Please don't hesitate to forward this issue of the Special Ed Advocate to other friends, families, or colleagues.
Wrightslaw: All About Tests and Assessments. Demystify the assessment process and make it less intimidating with this comprehensive, easy-to-read book that includes clear, concise answers to over 200 frequently asked questions about tests and assessments.
Find charts of tests and skills. The charts list tests to evaluate specific problems, the skills your child needs in these areas, and shows which tests measure these skills.
Print Book
Wrightslaw Special Education Law & Advocacy Training

Wrightslaw Training Conferences in February in NJ and two locations in TN. Make your plans. Register now!
Check the full training schedule.
Can't travel? Train at home. Here's how.