1. The Blame Game: Are School Problems the Kids' Fault?

"The school psychologist said Shannon's learning problems were her fault, that she was lazy and unmotivated and we had to pressure her to work harder. We pressured her to work harder. We didn't allow her to watch television. We didn't allow her to go out with friends. She got terribly depressed.''
"Then we learned that Shannon had dyslexia and ADHD. Why didn't the school tell us? Why did they blame Shannon and us for her learning problems?" (Emory & Elaine Carter, Shannon Carter's parents)
Many parents of special ed kids say that they are blamed, intimidated, and made to feel guilty by school personnel. Like Emory and Elaine Carter, these parents feel helpless, frustrated, and defensive.
In "The Blame Game," you learn the five reasons why kids have learning and behavior problems, what school psychologists do not tell parents, and what you can do about it.

Learn about school culture, evaluations & evaluators, and how to negotiate with the school in The Blame Game: Are School Problems the Kids' Fault?
---
2. School Culture & Conflict
In Wrightslaw: From Emotions to Advocacy, you learn about gatekeepers, special education teams, and one-size-fits-all programs (Chaper 4).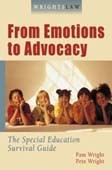 Learn about obstacles to success, including myths, rules and school culture, personality styles, how to deal with difficult people, and steps you can take to minimize or resolve problems with the school (Chapter 5).
Learn why parent-school conflict is normal, predictable, and inevitable. You learn the most common reasons for conflict, and strategies you can use to resolve conflict (Chapter 6).
If you are like many parents, emotions are your Achilles heel. Learn how routine problems can erupt into crises, common pitfalls, and steps you can take in a crisis to improve the odds for a good outcome (Chapter 7).

Learn about the FETA book (scroll down to "How the Book is Organized").

Table of Contents - Reviews - Sample Chapter - SMART IEPs

Learn about Wrightslaw: Special Education Law (and download 4 free chapters!)

---
3. Your Partners: The Independent Evaluator & Educational Consultant
A private-sector psychologist, educational diagnostician, or consultant can help you develop appropriate goals for your child and measure your child's progress toward these goals. An evaluator or consultant may:
* Teach you about your child's disability and educational needs
* Provide information about effective teaching and research-based educational practices
* Teach you how to interpret test results
* Help you design goals, objectives and time frames
* Evaluate your child's progress toward IEP goals and objectives
* Make recommendations about your child's educational program
Learn about evaluators and educational consultants in Your Partners: Independent Evaluators and Educational Consultants.
---
4. Free Shipping & Autographed Books - Sale Ends Dec 20!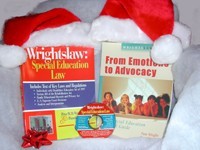 Do you know someone who is passionate about special education advocacy?

Do you know someone who would like a personally autographed Wrightslaw book?

Are you looking for a unique holiday gift?
Order any Wrightslaw book and get free shipping - save $4.95!
Wrightslaw books make great gifts for friends, teachers, and child advocates! Your autographed book will come in a special holiday gift box.

Order now - this offer ends on Friday, December 20!

Info about special sale - Internet Orders - Fax, Phone & Mail Orders

---
5. Using an Expert as an Effective Resource by Jennifer Bollero, Esq.
Why do parents need experts? How should parents choose experts?
In "Using an Expert as an Effective Resource", attorney-author Jennifer Bollero explains why parents should rely on advice from trained professionals to make informed decisions about educational interventions.
"No matter how knowledgeable they are about their disabled children, parents should rely on the opinions of trained professionals to help them make informed decisions about therapeutic and educational interventions."
Learn why medical experts should advise parents to seek the best medical and therapeutic treatments - and why a request for the "best" education from the school is fatal - read article.
Learn about tests, evaluations and assessments.
Learn about accommodations, modifications and high-stakes tests.
---
6. Factors to Consider When Selecting an Expert by Rosemary Palmer, Esq.
"When parents choose individuals to evaluate their child, many factors influence the decision-making process - convenience, license or credentials, reputation, insurance issues, office location, referral from a health care provider, recommendation by a friend, family or school employee - unfortunately, even ads in the yellow pages."
"A professional license does not guarantee competence. How should parents approach the task of finding competent experts?"
Learn about comprehensive evaluations, members of the evaluation team, provision and documentation of services in "Factors to Consider When Selecting an Expert" by parent attorney Rosemary Palmer.
You will find more articles about experts, evaluations, and evaluators in the Winter 2002 issue of The Beacon.

The Beacon is a multi-disciplinary electronic journal of special education law and practice from Harbor House Law Press.
---
7. Tips: Taking Care of Yourself

Raising a child with special educational needs can be overwhelming. If you are not careful, special education can consume your life. Many parents drive themselves until they are exhausted and burned out.
Pace yourself. Listen to tapes about time management. Use a schedule to gain control of your life. Spend time with friends or family to re-charge your batteries and regain a healthy perspective.
Here are more tips for taking care of yourself and your family.