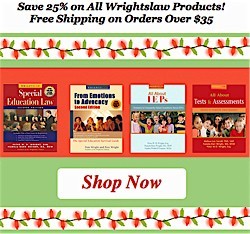 Christmas Sale!
Use Coupon Code 20161225 when placing your order to receive the discount.
Free shipping on orders over $35.
Shop Now - and don't forget to tell a friend!
Offer valid through December 15, 2016.
Need a special bulk discount rate? Please call us 877-529-4332.
Wrightslaw Advocate's Store -


It's in the bag with...The Wright Tote.

Special pricing on advocacy supplies - save 25% or more.
Need to get organized before your next IEP meeting? Carry confidence in The Wright Tote. The perfect size for on the go storage and organization of your child's records, special eduation file, and IEP notes - all in one place!
When you take The Wright Tote to your next IEP meeting, you'll know the power of getting organized!