In This Issue ...
ISSN: 1538-320
January 24, 2017
Wrightslaw Training
Register Today!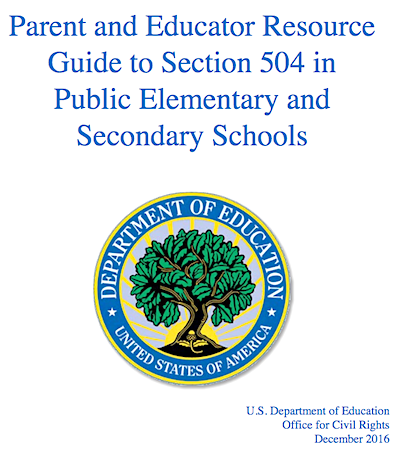 Did you know that kids with disabilities who get good grades may be eligible for 504 plans? Yes!
A student may have a disability and be eligible for Section 504 services, including modifications, even if the student performs well academically.
Did you know that all public schools and all public charter and magnet schools that receive Federal financial assistance must comply with Section 504?
Do you have questions about getting services for your child or student with a disability?
The new OCR Parent and Educator Guide is a must read!
If you are running into roadblocks from school staff, bring an extra copy or two of this Guide for members of your team.
In this issue of the Special Ed Advocate you will find the meaning of disability under Section 504, an overview of FAPE, info about special ed under 504 and IDEA, and protections against discrimination and retaliation.
We hope you will forward this issue to other friends, families, or colleagues.