In This Issue ...
Circulation: 87,018
ISSN: 1538-320
November 15, 2011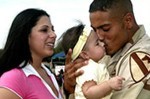 November is Military Family Month - a time to remember our service members and their families.
Military families who have children with special needs face unique problems. Ensuring their children receive the education they are entitled to by law is sometimes difficult.
Although military children may not be educated in the U.S., they are still entitled to a Free, Appropriate Public Education (FAPE).
In this issue of the Special Ed Advocate you will find comprehensive information, tools, and resources to help military families meet the needs of exceptional children.
A special thanks to The Wrightslaw Team Kids. We have just received the latest "Thank You" letters for our soldiers from New Hope, PA, Knoxville, TN, and Spokane Valley, WA.
Please don't hesitate to forward this issue to friends, family members, or colleagues.
Find Wrightslaw on Facebook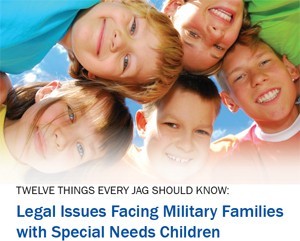 New Article! Legal Issues Facing Military Families and Children with Special Needs
Military Parents need to understand their legal rights under IDEA (20 U.S.C. 1400), Section 504, and the Insterstate Compact on Educational Opportunity for Military Children.
Moving once every three years, military families who have children with special needs face unique financial, medical, and legal issues
Read 12 Things Every JAG (and Military Parent) Should Know by Lieutenant Colonel Elizabeth L. Schuchs-Gopaul, USA.
Changing Schools and IEPs: What are Comparable Services?
12 Things Parents Should Know...
#4: parents changing public schools should receive "comparable services" at the child's new school.
Will you be moving this year and transferring schools? What will happen to your child's IEP when you change school districts?
Your new school district must provide services that are comparable to the services in the previous IEP. Find out what IDEA 2004 says about transfers in state and out of state... Read more

Military Discount at Wrightslaw
Welcome to Wrightslaw's Military Bookstore.
In the online Military Bookstore you can order Wrightslaw Books, Training on CD-ROM, and DVDs at discounted prices of 25% - 45% off. Shop today!
Other Wrightslaw Discounts:
15% Off Combos l Student Discounts l Bulk Discounts