PBS Premieres "Lives Worth Living" - October 27, 2011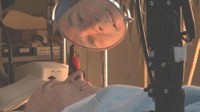 When Pete's cousin Fred was 17, he launched his disability advocacy career. Today Fred is widely recognized as one of the most significant leaders in the disability rights and independent living movements in the nation.

Lives Worth Living, a documentary featuring Fred's life, follows one man's struggle to survive after a spinal cord injury and his role in the earliest days of the Disability Rights Movement. This film is the first television history of their decades-long struggle for equal rights.
Lives Worth Living premieres on PBS on October 27.
Watch the trailer, as Fred tells you about his life after a devastating spinal cord injury, and his alliance with a small group of dedicated activists who formed the Disability Rights Movement and helped drive the nation towards equal rights.
In this issue of the Special Ed Advocate we pay tribute to Fred Fay and celebrate his remarkable life. We remember him for his leadership, inspiration, and contribution to the disability community.
Please don't hesitate to forward this issue to friends, family members, or colleagues.
Find Wrightslaw on Facebook