In This Issue . . .
Circulation: 81,508
ISSN: 1538-320
October 5, 2010
Take a look at your child's IEP. Do you see goals like this: "Evan will improve in reading...increase study skills for academic success...demonstrate better writing...?"
Not good enough! Your child needs a SMART IEP that is:

S Specific
M Measurable
A Use Action Words
R Realistic and relevant
T Time-limited
In this issue of the Special Ed Advocate, you will find an IEP game plan that will describe how to create SMART IEPs, step-by-step. Learn how to determine your child's present levels of performance and write measurable annual goals that are SMART IEP goals and objectives.
Please don't hesitate to forward this issue to other friends, families, or colleagues.
Find Wrightslaw on Facebook

Help! I Need Good IEP Goals & Objectives!
The goals in my child's IEP don't change much from one year to the next. The same goals are in every IEP since he entered special ed four years ago. A goal like "...improve his reading skills" is not specific, measurable or tailored to my child's unique needs. How can I get good goals in the IEP?

Thousands of people - parents and teachers - write to us every year with questions about how to write IEPs. Why is writing IEPs so difficult? What makes the IEP process so confusing?
In SMART IEPs: A Tactics and Strategy Session with Pete and Pam Wright, we answer your questions.
Your Game Plan includes three elements. To get the services your child needs you must learn about:
test scores
SMART IEPs
how to use advocacy strategies
Read the Wrightslaw Game Plan to find out why you need to begin with your child's Present Levels of Academic Achievement and Functional Performance to develop a SMART IEP.
Learn how to obtain baseline data by using your child's Present Levels.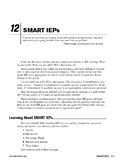 In From Emotions to Advocacy, 2nd Edition, we revised the chapter about SMART IEPs to walk you through the process of writing SMART IEPs. You use present levels to write measurable IEP goals. IEP goals describe what the child will learn and be able to do.
Download Chapter 12 about SMART IEPs (16 pages, pdf). Read and reread Chapter 12 until you understand these concepts. Complete the homework assignments that will teach you how to write SMART IEP goals.
You're likely to be surprised to learn that writing SMART IEPs is not very difficult.
IEPs - What Does the Law Require?
If you have questions about IEPs, please look at our multi-media training program, Legal Requirements of IEPs. The program shows you exactly what the law requires.
When Congress reauthorized IDEA 2004, they made significant changes to IEPs in several areas.
The IEP should tell you exactly what the school will do to address the child's needs. Finally, the IEP should give you a way to know if the IEP (educational plan) is working.
Take a closer look at the Legal Requirements of IEPs.
More articles about IEPs

In Memory of Reed Martin - A National Advocate
Reed Martin championed special education rights for most of his life. Reed practiced law in Texas for 22 years, working with over 4,500 families before becoming an advocate in West Virginia. He was the parent of a student who received special education services through IDEA and Section 504. Reed Martin passed away on September 24, 2010.