This is a special and exciting issue for us. In April 2008, Wrightslaw turned 10 years old.
As we celebrate our 10th Anniversary, we bring you the new Wrightslaw Way blog.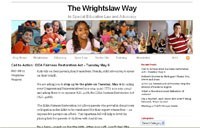 Wrightslaw Way
to Special Education Law and Advocacy
We want to say "Thank You" to our readers for your advice in designing the blog. You never let us down when we ask for your help.
In this issue of the Special Ed Advocate, we tell you more about the new Wrightslaw Way blog - how it's different from the Wrightslaw web site and newsletter, and tips about how you can use it.
Can we thank you for your help - and ask for more help at the same time? We certainly hope so.

Today is Call to Action on IDEA Fairness Day. So we have another favor to ask - please call your Representative about this important IDEA legislation. Learn how to make your voices heard!
Don't hesitate to forward this issue to other families, friends, and colleagues.
---
Remember the Blog Contest? The Winner?
Remember the blog contest and designs #1-5? And the winner is ...None of the above!
Of the five designs we selected, many people had favorites, but no strong winners.
We asked you to submit only the number for the design you liked best. We should have known better. You had far more advice than simply voting for a design.

In fact, the #1 comment was "Keep it simple!" Your overwhelming advice was...Why don't you do it the Wrightslaw Way?
So, that's exactly what we did.
---
The Wrightslaw Way to Special Education Law and Advocacy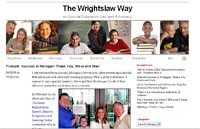 During the Blog Contest, here is what you said:
"I don't have strong feelings about these designs. We are used to Wrightslaw being about the kids, why don't you make it about them?"

"The best design will be your own, one that supports the Wrightslaw mission and purpose, and enables the readers to get what they came for without being distracted."

"I don't care about the colors, they can be distracting. Content is everything."
More content, less clutter
Printer friendly/reader friendly black text on white
No gimmicks or complicated layout
Provide a way for us to communicate and interact
We've been working to put this together since the Contest in February. So - just in time to celebrate our 10th year anniversary - we invite you to the grand opening of:
The Wrightslaw Way
to Special Education Law and Advocacy
Is it different from the Wrightslaw site and The Special Ed Advocate newsletter? You bet! As soon as you click the link to The Wrightslaw Way, you'll see how it's different.

Tip: On the blog, you'll find an RSS
icon. RSS means "Really Simple Syndication." This is a popular technology that will notify you when the Wrightslaw Way blog is updated or changed. You don't have to check every day or two - this is like having the blog come to you.
Click the RSS
icon under the header image to receive the feed. You can immediately subscribe to The Wrightslaw Way so you know about new posts. This is such a quick and easy way to keep up with new posts, legal news and decisions, events, and comments from others.
One More Favor

Wrightslaw doesn't have a million dollar marketing campaign or celebrity sponsors, but we have something better—you. If you enjoy The Wrightslaw Way blog, please consider telling a friend, or setting it up for someone less knowledgeable than you.
If you have suggestions, ideas or comments, please drop us a line at blog@wrightslaw.com
---
Call to Action Today, May 6 - IDEA Fairness Day
Don't forget - today is IDEA Call to Action Day ! Have you made your call?
Step up to the plate today. Call your Congressional Representatives (202-224-3121) (TTY 202-225-1904) and ask them to co-sponsor H.R. 4188, the IDEA Fairness Restoration Act (H.R. 4188).
Read the Call to Action Alert to learn how you can make your voice heard.

The IDEA Fairness Restoration Act allows parents who prevail in due process or litigation under IDEA to be reimbursed for their expert witness fees — an expense few parents can afford. This bipartisan bill will help to level the playing field for parents of children with disabilities.
Please call. Ask your friends, family members, neighbors, and co-workers to contact their Representatives today with a similar message. It's easy. Here's how.
Call Today! Help make the IDEA Fairness Restoration Act a reality!
---

On April 28, 2008, Virginia Department of Education published the proposed Special Education Regulations.
VDOE proposes to eliminate parental consent in some cases, and further erode parental rights. Other proposed changes will affect procedural safeguards, eligibility criteria, definition of developmental disabilities, and accountability.
It's time for Virginia parents, advocates, and other stakeholders to get involved in the regulation process. We need to protect parental rights and promote family involvement.

Governor Tim Kaine agrees. Read what Governor Kaine said about these proposed changes, and position statements of other organizations.
To help you learn about this process and stay up-to-date on news, we created the Virginia Special Education Regulations page. Please go to the Virginia Regulations page to learn when, where, and how you can get involved. Read all about the revision process.
The contents of this page change almost daily.

Comment Period: The official comment period is April 28, 2008 through June 30, 2008.
back to the top
---
What an amazing journey this has been.

On April 21, 1998, we published the first issue of the newsletter to 200 people. That issue included information about IDEA 97, two new damages cases with different Outcomes, a recommendation for LD Online, and information about IEP Meetings and Effective IEP Teams.

Since that first issue in 1998, we've published 468 newsletter and at least 200 Alerts.

In 1998, the Wrightslaw web site featured six articles on one page! When we published that site, we thought we were done! We didn't know that the site would grow to thousands of pages, or that we would write several books, or that we would build more web sites like the Yellow Pages for Kids with Disabilities.

We had never heard the term "blog" - and could not imagine creating the Wrightslaw Way blog so our readers can stay up to date and communicate.

We didn't know that we would meet and communicate with so many wonderful people over the next ten years.
Many of you have been with us from the start. Others are new to Wrightslaw and the Wrightslaw Story. We hope you'll stick around!
We want to take this opportunity to thank you for your support, advice, and encouragement. It's no exaggeration to say "We couldn't do this without you!"
back to the top
---