July 10, 2007

ISSN: 1538-3202

Issue: 397
Subscribers: 51,401

In This Issue:

Summer Sale



Save $25!

on Combo #4, the hottest combo this summer!

$114.00 NOW $89.95

Combo #4 includes
all Wrightslaw publications

Order

Looking for an Independent Evaluator, Consultant, Advocate?

Check the listings in your State Yellow Pages for Kids

Contact Info

Pete and Pam Wright
Wrightslaw & The Special Ed Advocate
P. O. Box 1008
Deltaville, VA 23043

Website

Copyright © 2007, Peter W. D. Wright and Pamela Darr Wright. All rights reserved. Please do NOT reprint or host on your website without explicit permission.
You know your rights and responsibilities under IDEA 2004 and how to use these rights to improve your child's educational program. You have a copy of your state's academic standards. You learned this in your third assignment of Summer School for Parents.
"When you discover your mission, you will feel its demand. It will fill you with enthusiasm and a burning desire to get to work on it." - Clement Stone

You have your mission - now, it's time to get to work.
Your fourth, and final, assignment is a call to action:
Get a comprehensive psychoeducational evaluation of your child
Find help in your community
Join a parent study, support or advocacy group
Register now for advocacy training
Use what you've learned in this Special Ed Advocate series. Let your increased skills and knowledge lead to assertiveness and effective action for your child.
Do you know other parents or colleagues who can benefit from this series? Will it be helpful to them? Will they appreciate the information?


Forward Summer School for Parents series to a friend or colleague. Act now, before you forget!

Our mission is to help others, too. Get weekly information and news alerts.
---
Do you want to roadmap for the future that includes accurate information about your child's strengths, weaknesses and educational needs? Do you want a comprehensive description of the special education program your child needs?

If the answers to these questions is "yes," you need to get a comprehensive psychoeducational evaluation of your child from an independent expert.
Use an Independent Evaluator
InIndependent Educational Evaluations: What? Why? How? Who Pays?, parent attorney Wayne Steedman explains the value of an independent evaluation. Wayne answers your questions about who is financially responsible and how to ensure that the information in your evaluation is considered and used by the IEP team.
Choose an evaluator who is independent of the school district and who is willing to work with the school staff to develop an appropriate program for your child.
Be Proactive!
We encourage parents to be proactive. Learn why you need to take this important step in Why Parents Should Get a Comprehensive Evaluation by an Independent Evaluator.
---
Find Help in Your Community
"Help! Where can I find a good evaluator, child psychologist, educational diagnostician or consultant?" It's easier than you think!
Use the Yellow Pages for Kids with Disabilities

Use the Yellow Pages to find a child psychologist, educational diagnostician, or educational consultant who can advise you about appropriate goals for your child. We built the Yellow Pages for every state and territory. Here you will find a user's guide and resource directory for your state.

Read How to Find an Educational Consultant, Advocate, or Attorney for strategies to find an educational consultant or psychologist who is appropriate for your child.
You can use the Yellow Pages to find attorneys and advocates, special education schools, learning centers, treatment programs, parent groups, respite care, community centers, grassroots organizations, and government programs for children with disabilities.
Find your local Parent Training and Information Center.
In the Yellow Pages you will find listings for more than 100 Disability Organizations and Information Groups, with website addresses and email contact information for these groups.
Listings are Free. Would you like to be listed? If you are a service provider, help parents get appropriate services, or facilitate a training or study group, submit an application now.
---
Join a Parent Study or Advocacy Group
You have much to gain by joining a parent study, support or advocacy group. You'll meet others who have traveled the same road. In addition to providing you with information and support, they will teach you the "rules of the game".
Finding the Right Group

Think about your interests and needs, then look for a group that is right for you. Read Advocacy Strategies: Learn From Others, Join a Parent Group to learn why this is such an important step to take.
"Join an organization . . . or two," advises Pam Wright. In From Emotions to Advocacy: The Parents' Journey, Pam explains why you need accurate information and support on your advocacy journey – a journey that is far more difficult if undertaken alone.
One Person is a Fruitcake ...

There is power in numbers. To help you remember this concept, take a minute to read One Person is a Fruitcake. You may want to print it and post it on your fridge.

Yes, "one person is a fruitcake" but ten people are . . . " Read more.
---
Attend a Wrightslaw Training Program
Before your fall calendar fills up, put a Wrightslaw training program on your To-Do list.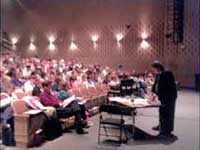 Experts in the field of special education law and advocacy teach a variety of special education law and advocacy programs.

Wrightslaw Training Programs
New programs are added each month. Programs fill up quickly and are often sold out, so check your calendar and register today. Full schedule

If you don't find a program in your area, don't despair. We are developing a series of online training programs that will meet your needs, regardless of where you live.
We are scheduling programs for 2008 and 2009 now. If you are interested in bringing a Wrightslaw program to your community, please read Conference Information.
---