1. "Pete Wright is one of the Lucky Ones"

Need inspiration? Curious about Wrightslaw? Read "Special Education Rights are Specialty of Deltaville Firm" by Tom Chillemi of the Southside Sentinel.
"When Peter W. D. Wright was a sophomore in high school, a counselor told his parents that his learning difficulties made it 'unrealistic for Peter to attend college.' They were wrong. Pete Wright went to college, became an attorney, and successfully argued a case before the U.S. Supreme Court. It is doubtful this would have happened had Wright not received treatment for his learning disabilities."
"Pete Wright is one of the lucky ones. When he was growing up in Washington, DC, learning disabilities were not well understood. This is changing. Today, parents of children with special education needs can turn to www.wrightslaw.com.
"Peter Wright and his wife Pam have developed Wrightslaw.com, an internationally recognized organization about advocacy for children with special education needs. Through their website and two books, the Wrights have reached hundreds of thousands of people and helped to turn many lives around."
Learn about Wrightslaw and meet Pete, Pam, Debra, and Traci in "Special Education Rights."
---
2. Parent Tips: Visiting the School
You are the most important advocate for your child's education. You should feel comfortable visiting your child's school and examining the curriculum. Some things you may want to ask your child's teacher or principal:
* May I see a copy of this school's report card?
* May I see my child's test results? Please explain in what areas my child is improving and in what subjects she may need help.
* What subjects does my child seem to enjoy the most? What can I do at home to reinforce and encourage that interest?
* If my child needs extra help, what resources are available before or after school or on the weekends to make sure she gets the help she needs?
These tips are from The Achiever, a newsletter published for parents and educators by the U. S. Department of Education.
---
3. Free Shipping & Autographed Books - Sale Ends Dec 20!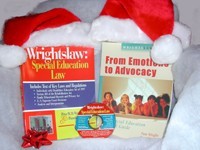 Do you know someone who is passionate about special education advocacy?

Do you know someone who would like a personally autographed Wrightslaw book?
Get free shipping on any Wrightslaw book - save $4.95!
Wrightslaw books make great gifts for friends, teachers, and child advocates! Your autographed book will come in a special holiday gift box.
Info about special sale - Internet Orders - Fax, Phone & Mail Orders

---
4. The Art of Writing Letters
When you use tactics and strategies, you write letters to clarify events and what you were told. When you train yourself to write things down, you are taking steps to protect your child's interests.
In this article you learn to use tactics and strategies when you write letters to the school. In The Art of Writing Letters, you learn about the Blame Approach and the Story-Telling Approach, the sympathy factor, first impressions, pitfalls, and the powerful decision-making Stranger.
12 Rules for Writing Great Letters
If you have a problem with the school or concerns about your child's program, you must document your concerns in writing. This article includes twelve rules for writing letters, along with editing tips.
---
5. Sample Letters in From Emotions to Advocacy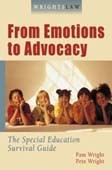 "Wrightslaw: From Emotion to Advocacy" includes more than a dozen letters that you can tailor to your circumstances - just turn to page 331 and learn how to:
* Request Information
* Request a Meeting
* Document a Problem
* Express Appreciation
* Decline a Request
* Request Child's Records
* Request a Records Review
* Request an Evaluation
* Request Child's Test Scores
* Post Meeting Follow-up Letter
* 10-Day Notice Letter
Learn more about Wrightslaw: From Emotions to Advocacy.

Table of Contents - Reviews - Sample Chapter - SMART IEPs

---
6. Writing a "Letter to the Stranger"
What is a "Letter to a Stranger"? When you write letters to the school, strangers will read your letters. Strangers will make many important decisions about your child's education.
What impression will your letter make on a stranger? Will the stranger see you as an angry, negative complainer? Will the stranger see you as a rational, thoughtful parent who is expressing valid concerns?
When you write letters, keep this "stranger" in your mind's eye. Who is the stranger? What does he look like? How does he think?
Read "Letter to the Stranger" by Janie Bowman and Pete Wright.
NOTE: This original "Letter to the Stranger" was posted on the CompuServe ADD Forum in 1994. Later, this article and other memorabilia from the ADD Forum was permanently archived at the Smithsonian Institute.