In This Issue ...
Circulation: 91,630
ISSN: 1538-320
May 28, 2013
Does your child's IEP
include a plan to meet ALL of her unique needs?
tell you exactly what the school will do to address her needs?
provide a way to know if her IEP is working?
In this issue of the Special Ed Advocate you will learn more about the importance of developing, reviewing, and revising your child's IEP. Keep it current, keep it relevant, keep it SMART! Find the requirements for consideration of special factors.
Please don't hesitate to forward this series to other friends, families, or colleagues.
Find Wrightslaw on Facebook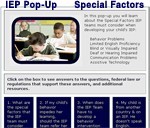 Did the Team Consider Special Factors in the IEP?
The IEP team is required to consider special factors that affect your child's ability to learn. Did the team address special factors during the IEP review?
Learn how the IEP must address each factor. Learn what the federal law and regulations require. Pop-Up: Special Factors in IEPs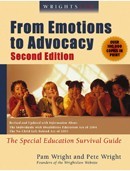 SMART IEPs: We'll Walk You Through It!
You're likely to be surprised to learn that writing SMART IEPs is not very difficult.
We will walk you through SMART IEPs step-by-step in Chapter 12 of Wrightslaw: From Emotions to Advocacy, 2nd edition by Pam & Pete Wright.
Parent, teachers, school administrators - order your copy today!
| | | | |
| --- | --- | --- | --- |
| Print Book + PDF | Print Book | Kindle | e Pub |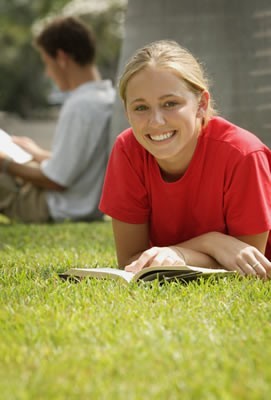 Your Goal? Get the School to the IEP Table, Not Due Process
How do you do it? Use information from Wrightslaw to successfully negotiate a good program.
Find out how in this success story!
After struggling with our school district for over a year to provide services to my disabled child without success, I knew I had to ...