In This Issue . . .
Circulation: 81,218
ISSN: 1538-320
August 31, 2010
As your children return to school, it's time to think about what you need to do to start this school year right. Our Back to School Series will help.
Effective advocacy comes from research, planning, and preparation. To be a successful advocate you need to:
Know your child's disability and his rights
Understand your rights and responsibilities
Hone your advocacy skills and techniques
Learn to negotiate for quality services
Maintain a positive parent/school relationship
Planning is the key to success. Your child's special education is a long-term project. You need a master plan. You will revisit and revise your plan as your child grows.

In this issue of the Special Ed Advocate, you will find advice and advocacy strategies to help you make educational decisions for your child. You will learn how the effective parent advocate stays focused, anticipates problems, and avoids mistakes.

Please don't hesitate to forward this issue to other friends, families, or colleagues.

Find Wrightslaw on Facebook

Become Your Child's Case Manager
As a parent, your role is similar to that of a project manager - you organize, plan, monitor progress, anticipate problems, and keep the team focused. Wrightslaw Research Editor Sue Whitney explains how to...
Become Your Child's Case Manager - Don't Just 'Go With the Flow'.
Because the stakes are so high, it is difficult for parents of children with special educational needs to advocate calmly and objectively for the educational and related services their children need.

Some common Mistakes Parents Make that undermine their ability to obtain appropriate services, from attorney Robert Crabtree.
The Art of Persuasion - Advocacy Style!
Parents put together Public Law 94-142. Parents who vote urged Congress to pass the law that became the Individuals with Disabilities Education Act.
Marie Sherrett says, "You can make things better for the next generation without filing for due process." Learn how...
What Parents Should...and Should NOT Do
What should you do? Say? Not do? Because they are not educators, most parents don't understand that they have a unique role to play in the IEP process. Parents should...
Prepare for meetings
Prioritize your child's needs
Build good relationships
Document issues and concerns
...read more about what What Parents Should... and Should NOT Do by attorney Leslie Margolis.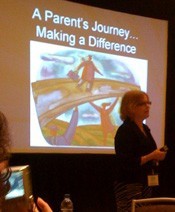 Parents are paying it forward by providing advice and information to others, developing advocacy study groups, or training parents, service providers, and educators in special education advocacy.
Read about seasoned parent advocates who are training and enabling other parents in The Power of Parent Advocacy.