In This Issue . . .
Circulation: 80,853
ISSN: 1538-320
August 10, 2010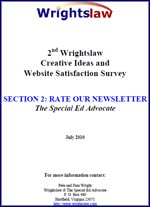 We want to thank all of you who participated in the second Wrightslaw Creative Ideas and Website Satisfaction Survey.
To fulfill our mission, we need to know about the people who visit our site. The best way to know how our services are meeting your needs is for us to ask you. We were overwhelmed with your response. Thank you.
In this issue of the Special Ed Advocate, you will find how you have helped shape the future growth of Wrightslaw in a comprehensive report on the results from the Website, Newsletter, and Product Survey.This report contains your approval ratings as well as some of your comments and suggestions.
Please don't hesitate to forward this issue to other friends, families, or colleagues.
Find Wrightslaw on Facebook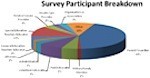 What You Like Most About the Wrightslaw Website
A total of 2,614 surveys were collected. All 50 states were represented, as well as Puerto Rico and International locations.
Your responses are invaluable. They help us select new features and content for the website. We received 53 pages of comments and suggestions on the website portion of the survey. Find out what additional topics our readers would like to see on Wrightslaw...

Current Subscribers
80,853
High Ratings for the Special Ed Advocate Newsletter
The feedback gleaned in the 34 pages of topic suggestions will help shape future topics and will help "beef up" pre-existing sections of our newsletter. For which topics stand out more often than others...
Results for Section 2: Rate our Newsletter
4% of survey participants are not on our mailing list and 5% were unsure if they subscribe. Don't miss this chance to subscribe to the Special Ed Advocate today!

Comments & Suggestions for Future Wrightslaw Products
Your suggestions will help us make decisions about future training programs and products available in the Wrightslaw Store.
...Boot Camp 2004. I was so hungry for information and this was just what I needed. I began applying what I learned I helped other parents, they told others, and we grew into a grass-roots organization that currently serves about 400 families.
When asked what you didn't like, many users answered with "nothing", "can't think of anything" or "n/a" as a response. Others asked for products in Spanish, more specific information, more...
The Wrightslaw "Suggestion Box"
We appreciate you sharing your ideas and valuable feedback. Some of you made suggestions for features on Wrightslaw that currently exist. Perhaps you just don't know where to find them.
So... we created The Suggestion Box on Wrightslaw's Facebook page. To track the progress of your suggestions and find our responses, check out The Suggestion Box.
Although we have compiled the results for 2010, if you did not previously submit a response, you may take the survey now. We will be happy to consider any additional comments and suggestions.
After you complete the survey, you'll receive a free Wrightslaw White Paper about IDEA 2004 to thank you for your time and help.