---
2009 Progress Report
Up nearly a million from 2008, the total of number of hits on Wrightslaw in 2009 was 75,527,522. The average number of hits increased by more than 2,000 per day.
Summary of Activity

Total Visitors: 2.8 million
Total Page Views: 8.6 million
Total Hits: 75.6 million

View 2009 User Summary (in pdf)

Busiest Months: March and April
Slowest Months: August and July
New Book! Wrightslaw: All About IEPs
Our new book, Wrightslaw: All About IEPs went to the printer in October 2009 and quickly became a best seller. We are now into the second printing.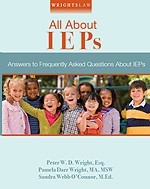 In this comprehensive, easy-to-read book, you will find clear, concise answers to over 200 frequently asked questions about IEPs.
Learn what the law says about:
IEP Teams and IEP Meetings
Parental Rights & Consent
Steps in Developing the IEP
Placement, Transition, Assistive Technology
Strategies to Resolve Disagreements
New Training! Wrightslaw Program: All About IEPs
In 2009, Wrightslaw did 27 Special Ed Law & Advocacy Training Programs all over the country.
In November 2009, a new Wrightslaw program was introduced. All About IEPs (one day, 5 hours) focuses on the legal requirements for IEPs and how to develop SMART IEPs.
Participants learn how the law about IEPs changed, the legal requirements for IEPs in IDEA 2004 and federal regulations, and significant legal cases about IEPs.
In All About IEPs, you learn how to draft SMART IEPs that are Specific, Measurable, use Action Words, are Realistic, and Time specific. You will also learn how to use an effective team approach in crafting legally sufficient IEPs.
This first All bout IEPs program was held in Jan, and more are scheduled in 2010. Find out how to bring a Wrightslaw program to your community or find a program & register to attend.