When you disagree with the IEP team, can you succeed in negotiating an appropriate program without starting a war?
In this issue of the Special Ed Advocate you will learn how to manage emotions at IEP meetings when you disagree with the team.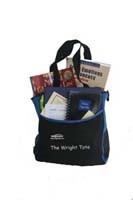 You'll learn to recognize pitfalls and avoid mistakes that prevent parents from successfully advocating for their children.
Get organized for the IEP meeting. Check out the New! Wright Tote IEP Kit in the Advocate's Store.
Please don't hesitate to share this issue with other families, friends, and colleagues.
---
You should be polite but firm.
Tip: Think about how Miss Manners would handle a difficult situation and use this to guide you.
You are an active member of your child's IEP team and a participant in the process. The law requires you to make your objections clear. The IEP is the best document to use when you need to make your objections clear.
When the team asks you to sign consent to the IEP, using your ballpoint pen, on the hard table top, write the following statement ON THE IEP:
"I consent to this IEP being implemented but I object to it for the reasons I stated during the meeting."
Then sign your name.
Do not be surprised if someone gets upset and says you are not allowed to write on your child's IEP - that it is a legal document. This is not true. Parents can write on their child's IEPs. (But the person who objects may not know this.)

If someone tries to stop you, continue writing. If someone tries to pull the IEP out of your hands, continue to write while pressing down very hard with your ballpoint pen. If they yank the document away, continue writing as the IEP tears.

Stay calm and cool. Take your copy of the IEP (whatever is left), stand up. Say, "Thank you, I guess the meeting is over." Extend your hand to shake theirs. Gather up your tape recorder and leave.
---
Parents often say that when they go to IEP meetings, the school staff won't answer their questions or listen to their requests.
1. Take a piece of paper, draw a table with three columns. Head them like this:
What Mom Wants
School's Response
Resolved?
2. Make your list.
3. Take this paper with you to the meeting.
As the discussions begin, tell the IEP team that you have a few questions too. At various points in the meeting, ask very sweetly for whatever is under column one.
If they don't respond to you, just say, "I'll just take that as a 'no,' then, okay?" or "I'll just write that one down as 'no response."
4. Before you leave the meeting...
Find out what to do before you leave the meeting and what to do with your written record. Read How to Handle Disagreements at IEP Meetings
---
There is nothing wrong with disagreement. Problems come from the manner in which disagreements are handled.
Indiana advocate Pat Howey gives tips to parents and advocates about When Disagreements Turn Into Power Struggles:
Parents and Schools: Different Perspectives
Parents Have Power -- Use It Wisely!
The Dangers of Making Threats
Dealing with IEP Meeting Frustrations
---
Building Positive School Relations - the Common Sense Approach
Don't be afraid to take charge, and see your role as equally important as the educational professionals.
This is from Appendix A to the IDEA regulations.
"Parents are equal partners with school personnel in making these decisions, and the IEP team must consider the parents' concerns and the information that they provide regarding their child in developing, reviewing, and revising IEPs.
Do not allow yourself to get into a "them versus me" situation.
IEP Tips: What to Do at an IEP Meeting includes strategies you can use to be a more effective, advocate participant in the IEP process. These strategies offer common sense approaches about how to effectively advocate, while providing input and building positive relationships with school personnel.
---