Summer is a great time for needed vacations. Summer is also time to prepare for the whirlwind of activities when school starts in the fall.

Highlights: Pam has surgery, Pete collects surgical tools; champion of special-ed children doing good, having fun; four wonderful things in NCLB - reading, essential components of reading instruction, scientifically based research, diagnostic reading assessments; IDEA Update - IDEA 2004?; put Wrightslaw advocacy training on your "to-do" list; new decision from 4th Circuit; free shipping on Wrightslaw books.
---
1. Pam has surgery, Pete collects surgical tools

"Pete, put those tools down - now! No! You are NOT going to remove my stitches - they will dissolve on their own."
Fourteen days ago, Pam had back surgery - a lumbar discectomy/decompression and lumbar fusion with bone grafts - no fun!
The next day, after Pam's surgeon put in a few more stitches, Pete asked for the surgical tools before the doctor threw them in the trash. Worse, Pete scavenged another set of tools on the following day when the doctor decided Pam needed more stitches before going home. Ouch!
After Pam's surgery, Pete sent this progress report to family and friends:
"She has some high tech titanium nuts, bolts, screws, etc in her back that will set off metal detectors in airports.
"We are experimenting with the pain meds. Finding the right mix, swallowed with a fifth of rum a day, is not easy. She keeps sending me back up to the ABC Store."
From Pam: It's not true about the rum (and the family knew it). Sometimes Pete makes up stories for dramatic effect.
Then, on Sunday, something happened that took Pam's pain away.

---
2. Paradise at end of the road - Champion of special-ed children still doing good while having more fun
"Ten years ago, Pete Wright stood at the pinnacle of the legal profession.
"Now, he stands at the end of the road.
"And he can't imagine a better place to be."
Three weeks ago, Bill Lohmann visited Pete and Pam at their home in Deltaville, Virginia. (Yes, Deltaville is on the map!) Bill is observant, perceptive, and an incredibly talented writer (some say genius) with the Richmond Times-Dispatch.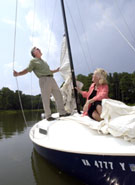 Bill spent a day with us, observing, asking questions. He hopped aboard our 13-foot Laser sailboat with Pete for the first sail of his life.
It was blowing 20 knots.

Bill did research. "Just last month, The New York Times, in an editorial, called Wright '"a warrior for children."'
https://www.wrightslaw.com/news/2003/wright.staples.nytimes.htm
He talked to people who know us, friends like Ron David, a Richmond pediatric neurologist.
"Special-needs children don't vote. Pete - and we have to include Pam -are almost single-handedly the great equalizers in championing the cause of these children."
He talked to Kathleen Mehfoud, counsel for school boards in Virginia. "Pete and I have mutual respect for each other," said Mehfoud, who has been battling Wright in court for about 25 years.
Then Bill wrote a moving essay about Pete and Pam. Here are some highlights:
"It was 10 years ago this October that Wright, a Richmond attorney with butterflies and a solid case, stood before the U.S. Supreme Court and argued on behalf of a South Carolina special-education student."
"Take a fast-talking, hyperactive, former football player with a photographic memory and a passion for his work and the challenge is formidable. He's a little on the relentless side."
"He fights for children and sails for himself. It's a nice life. Not bad for a man who struggled through school, like the kids he helps, with learning disabilities."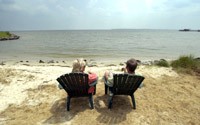 Bill described "Pete and Pam Wright's slice of paradise" at the end of the road. "The road? Route 33, which comes all the way across Virginia and dead-ends into the bay a short sunrise stroll from their new home."
Bill Lohmann's article appeared on Sunday, August 3 in the Richmond Times-Dispatch.
Pam's pain vanished as she read this beautiful essay.
Is Pete Wright the enemy of public school systems? Read the article and draw your own conclusions.
Here are links to Paradise at the End of the Road:
https://www.wrightslaw.com/news/2003/champion.lohmann.htm
http://www.timesdispatch.com/flair/backroads/MGBW7YZIYID.html
If you want to comment on "Paradise at the end of the road", we know Bill Lohmann would like to hear from you. You will find his email address is at the end of the article.
---
Making Progress, Measuring Progress

Since Pam's doctor said, "You can walk as much as you want," she started walking. Every day, she added a half-mile. Now she is walking three miles a day (as measured by Pete's GPS, of course) and can get away from Pete when he brandishes his new surgical tools.
---
3. Four Great Things About Reading in the No Child Left Behind Act
We are excited about the No Child Left Behind Act. Here are four legal definitions about reading in the law. Pete has used these definitions successfully in several cases.
1. Legal definition of reading
The term 'reading' means a complex system of deriving meaning from print that requires all of the following: