The Special Ed Advocate Newsletter
Print this page | Subscribe Today!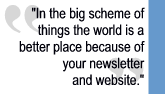 The Special Ed Advocate is a free online newsletter about special education legal and advocacy topics.
Subscribers learn about new cases, articles, seminars and training, special offers on books by Pete & Pam Wright, and other useful information about special education law and advocacy.
What People Are Saying About The Special Ed Advocate
"Thank you, thank you, thank you for this unbelievable web site. What a God sent RESOURCE. I don't even know where to begin on your site. I logged on today for the first time. Instead of my 8 year old daughter trying to get an education in the public school system, I'm the one getting the education. I am looking forward to your newsletters and using this site. Thank you again for this AMAZING information."

(Please check your inbox and follow the email instructions. You must confirm your email address before we can add you to our list.)
"I just ran out to Barnes &, Noble today to purchase your 2nd edition of "From Emotions to Advocacy". Since I have found your site yesterday, I am spending every free moment trying to educate myself to help my children. I will definitely share, tell, announce and email all persons I know, and are about to encounter on my journey about Wrightslaw. How ironic is the name, pronounced as "Rightstlaw" almost as if to say that the "RIGHT to an education is THE LAW". Both you and your husband have made a landmark with your gift, your name, and your lives!"
"Your site is one of the best sites I have ever been on. I wish I would have known of this site, because we would have had all the books! Thanks to your site I will be able to help my kids get the education the deserve and need just like anyone else."
"Thanks for the trustworthy information and support you provide through the Wrightslaw website and newsletter. You helped our family act when we needed to - we are thriving now."
"I read your newsletter religiously to find information that I need on many topics. I recommend the newsletters to my student's parents and I forward relevant articles to my supervisor."

"Thank you so much for all of the updates on the new rules and regulations as well as the newsletters. The Special Ed Advocate has provided me with a wealth of information. Keep up the good work."
"I love getting The Special Ed Advocate - I read it thoroughly and forward it to parents and other professionals."
"I want to passionately THANK anyone who was involved with putting this site together. There is a gold mine of information here! The site is well organized and a Godsend to our family. Additionally, I never thought I could understand testing statistics - until I read your pages. Again, a million THANK YOU's!
If You Use a Web-based Service Like Hotmail & Yahoo . . .

If you use an email address at a web-based service like Hotmail or Yahoo to subscribe to the newsletter, be sure to add our address to your address book:

newsletter | at | wrightslaw.com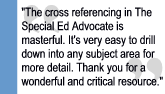 If you do not add our address, future newsletters may be improperly filtered by Hotmail or Yahoo, in their efforts to combat spam.

We apologize for the extra effort, and appreciate your help.
Newsletter Archives
To read back issues of The Special Ed Advocate from 1998 to the present, visit the Newsletter Archives.

Privacy Statement
We respect your privacy. Our subscriber list is confidential. We do not release information about subscribers. Our subscriber list is not for sale. Period! Please see our privacy policy for additional information.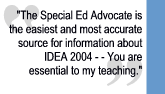 If Your Email Address Changes...
If your email address changes, please unsubscribe your old email address and subscribe your new email address.

Each newsletter includes your personal link to unsubscribe. When you click this link, the newsletter program will unsubscribe you. To subscribe, just type your email address into the Subscribe box (above).
News
Although we check online sources for special ed legal news, we rely on subscribers and site visitors to send us information about important cases, settlements and other newsworthy events. We encourage readers to send information about breaking news events and we appreciate your help.
If you have news to share, please send your news to webmaster | at | wrightslaw.com
To ensure that we see your email, please type NEWS EVENT in the subject line.
Please forward this page to your friends so they can subscribe too!

Last updated: 09/15/08