In This Issue ...
Circulation: 93,087
ISSN: 1538-320
November 12, 2013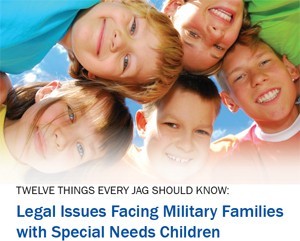 November is Military Family Month.
This week, we salute our military families and children.
Moving once every three years, military families who have children with special needs face unique financial, medical, and legal issues.
In this issue of the Special Ed Advocate you will find information and resources to help military families locate programs, services, and supports to meet their needs.
Please don't hesitate to forward this series to other friends, families, or colleagues.
Find Wrightslaw on Facebook


IDEA Requirements When Military Children Move
OSEP guidance to school districts to ensure that military children receive required special education and related services.
1. Highly mobile children should have timely and expedited evaluations and eligibility determinations.
2. Comparable services include services during the summer, such as Extended School Year (ESY) services.
Military Discounts at Wrightslaw
Welcome to Wrightslaw's Military Bookstore.
Use the military discount in the Wrightslaw Store for 25% - 45% off!
Other Wrightslaw Discounts:
15% Off Combos l Student Discounts l Bulk Discounts