In This Issue . . .
Circulation: 82,039
ISSN: 1538-320
November 3, 2010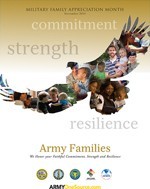 Out of approximately 2 million military students, approximately 13% are special needs students compared with 11.5% of all US students. The special education rates in states currently very from 9% to 16% - Military Child Education Coalition.
"Our military children are awesome...but they have extra hurdles to clear, burdens to bear. We have a sacred responsibility to take care of them." - U.S. Secretary of Defense, Robert Gates
This week, we salute these military families and children and honor their sacrifices.
In this issue of the Special Ed Advocate, read about the unique challenges of military families who have children with exceptional needs. You'll find information and resources to help military families locate programs, services, and supports to meet their needs.
Please don't hesitate to forward this issue to other friends, families, or colleagues.
Find Wrightslaw on Facebook



All Military Parents and Staff - FREE Wrightslaw Boot Camp
Travis Air Force Base Airman & Family Readiness Center is sponsoring a Wrightslaw Special Education Law and Advocacy Boot Camp with Pete and Pam Wright on November 16-17, 2010.
Registration is free and open to all military parents and staff such as EFMP's, SLO's and related service providers.
Learn about IDEA 2004 and the Dept. of Defense Instruction (DoDI) # 1342, "comparable IEPs" upon transfer to a new school district, Procedural requirements and timelines... Details l Registration
Military & Department of Defense Special Education
The information on the Military and Department of Defense page describes various aspects of a military special education and the unique issues these children face - frequent transfers in and out of schools with different levels of instructional programming, "portable" IEPs, and the emotional issues that accompany the deployment of family members.
DoD Special Needs Parent Toolkit l DoDEA 2010 Costumer Satisfaction Survey
Thank a soldier this month for his or her service. Be a Hero...to a Hero.

Welcome to Wrightslaw's new Military Bookstore.
In the online Military Bookstore you can order Wrightslaw Books, Training on CD-ROM, and DVDs at discounted prices of 25% - 45% off. Shop today!
Other Wrightslaw Discounts:
10% Off Combos l Student Discount l Bulk Discounts
Proposed $5 Million Voucher Program
Bill Calls for Vouchers for Disabled Military Children. The proposed pilot program would start in the 2011-12 school year and provide up to $7,500 per year for school costs. The program is part of the defense-spending bill that Congress will take up in its post-election lame-duck session.
Special Needs Program Gets Mixed Reviews. The Air Force inspector general investigation, prompted by a complaint on behalf of 16 families, found the Air Force lags behind the other services in its support of families with children who have special-needs children.
The Arc FINDS Survey 2010 - Military Families. The purpose of this survey is to collect data that is specific to the experiences and needs of military families.
Responses will be used to help inform disability organizations, services, policy, and public perceptions on issues related to disability supports that military family members have now, need, or are anticipated to need in the future.