In This Issue . . .
Circulation: 80,086
ISSN: 1538-320
May 18, 2010
ESY services are different from summer school, summer remedial classes, and summer enrichment programs.
Many parents have questions about ESY services. Could my child benefit from extended services? What are the criteria for ESY? Does my child qualify? How can I get the school to provide ESY?
The law about Extended School Year (ESY) has been interpreted differently around the country. You must do your own research and not accept everything you are told by the school.
In this issue of the Special Ed Advocate, you will learn about legal standards for Extended School Year (ESY), advocacy strategies that will help you negotiate for ESY services, and decisions about ESY from federal courts.
Please don't hesitate to forward this issue to other friends, families, or colleagues.
Not a subscriber? Sign up free today! l Read previous issues
Find Wrightslaw on Facebook

The school told me that the state regulations mandate that a child cannot receive more hours of support per week during ESY than he has specified in his IEP for the regular school year.
This is not true. ESY is a team decision. ESY can be used to recoup regression, or to catch your child up to where he should be, or for any other reason the team decides. It can be more or fewer hours than what your child is already getting.
Read ESY, Regression, and Responding to "Misinformation" from School Administrators by Sue Whitney, Wrightslaw Research Editor.
Sample Letter: Get Answers to Your ESY Questions from School Personnel
Do you think the school has provided incorrect or incomplete information about your child's IEP? You can use the sample letter in this article if you feel you've been "misinformed" by school personnel about ESY policy.
Use the letter as a request to reconvene an IEP team meeting to discuss ESY services.
Learn more about ESY Standards and Caselaw at Extended School Year (ESY) Services.
Should Your Child's IEP Include ESY?
Courts in different states and federal circuits have issued decisions that create different standards, and the standards for ESY have changed quickly.
If you have a disagreement or dispute with the school about Extended School Year services, you need to get a copy of your state's criteria for ESY.
ESY Success Story: The "Colombo" Strategy
Has the IEP team already taken the position that your child does not need ESY services?
Learn how one parent got answers to her questions about ESY (it was fast and easy). At the next meeting about ESY, instead of confronting school personnel, she asked questions and used the Columbo Strategy. Find out... How I Got ESY Services After the School Said No!
Publisher's Special: FREE Special Ed Law E-Book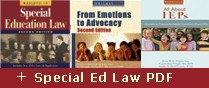 Get a FREE Law E-Book when you order all three books - Law, FETA, and AAIEPs.
Combo 3: Law, E-Book, FETA and AAIEP Books - $62.85

Save $15.00!