In This Issue . . .
Circulation: 76,900
ISSN: 1538-320
In military families, parents must navigate a new special education maze each time they move. Every time the family transfers, they start at the bottom of a new list for care, assistance, and services.
Military families need support to help figure out new schools, special ed programs, therapies, and medical providers.
In this issue of the Special Ed Advocate, you will learn about new legislation that mandates a comprehensive policy on support for military families with special needs. You'll find stories from military families about the barriers they face and a report on the Congressional Briefing focused on parental concerns.
Please don't hesitate to forward this issue to other friends, families, or colleagues.
Not a subscriber? Sign up free today! l Read previous issues
New! Find Wrightslaw on Facebook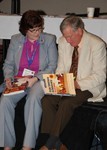 New! Office of Community Support for Military Families with Special Needs
In October 2009, Congress created the Office of Community Support for Military Families With Special Needs. This new office will develop a comprehensive policy on support to families who have children with disabilities and advocate for military families to help resolve problems.
The DoD/Joint Conference: Improving the Quality of Life for Military Families with Special Needs was held November 16-18, 2009. Pete Wright autographs books after he presented a training session on Special Education Law and Advocacy at the conference.
Find more information on this conference, plus articles, caselaw, and a comprehensive resource listing at Military & Department of Defense (DOD) Special Education.
Congressional Briefing: Overcoming Barriers Faced by Military Children
There are 100,000 military families with children or other family members who have a disability. When retirees are added, the numbers swell to 220,000.
In January 2010, a Congressional Briefing focused on the barriers faced by military parents of children with disabilities, including special education.
Three military dads spoke about their experiences transporting an IEP and services across state lines - with no stay-put!
The Military Child and Special Education
By understanding state and federal special education law, understanding the power of negotiating effectively, and realizing that you are the only ones that are going to effectively advocate for your child, your child stands a significantly improved chance at an appropriate education.
Jeremy Hilton, a former Navy submariner who gave up his career to care for his daughter, Kate, writes about The Military Child and Special Education in his article published in the August issue of EP Magazine.
New Toolkit for Teachers and School Administrators!
AASA Toolkit: Supporting the Military Child. Guidance from the American Association of School Administrators for school leaders on meeting the unique educational needs of children whose parents are deployed or in transition.
Includes Resources for Supporting the Military Child, Q & A for Meeting the Military Child's Needs, Videos, and Tips for School Leaders.
Free Online Tutoring!
In January, the Defense Department launched a free, online tutoring service for servicemembers and their families that offers round-the-clock professional tutors who can assist with homework, studying, test preparation, resume writing and more.