In This Issue . . .
Circulation: 72,399
ISSN: 1538-320

Do you know:
standard test scores
percentile ranks
subtest scores
age and grade equivalents on recent evaluations
There's no way around it. To be an effective advocate, you must learn how to measure educational progress.
In this issue of the Special Ed Advocate you'll find Part 3 of Summer School for Advocates. Learn how to use information from tests to track a child's progress. You will also learn about the bell curve and how to use your child's test scores to create powerful progress graphs.
Not a subscriber? Sign up free today! l Read previous issues
Please don't hesitate to forward this issue to other friends, families, or colleagues.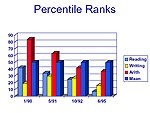 Tests & Measurements for the Parent, Teacher, Advocate, and Attorney
To measure and monitor a child's educational progress, you must use information from objective tests and you must know what these test scores mean. You need to be able to compare these scores with earlier testing.
Before you can participate in the development of an appropriate special education program, you must have a thorough understanding of a child's strengths and weaknesses. This information is contained in tests that are used to measure the child's abilities and educational achievement.
Why Are Test Scores So Important
When you understand your child's test scores, you can -
identify your child's strengths and weaknesses
identify your child's needs
determine if your child is making progress
create charts that document progress or regression
"Knowing how to use the bell curve is more important than knowing the law."- Pete Wright
You need to learn how to use the bell curve to measure educational progress. You also need to learn about standard scores, percentile ranks, and standard deviations.
Check your knowledge... Take the Bell Curve IQ Quiz