March 10, 2009

ISSN: 1538-3202

Subscribers: 68,393

In This Issue:

What's in Store at Wrightslaw 2009?

Special Education Law & Advocacy Training
(6.5 hrs)

Advocacy Training you CANNOT afford to miss!

March 12: Tucson, AZ


Sold Out!

March 19: Bowie, MD


Sold Out!

April 2: West Boylston, (Worcester/
Greater Boston Area), MA
April 18: Bradenton, FL
April 30: Bethlehem (Allentown Area), PA
May 29-30: Maui, HI
Boot Camp

Contact Info

Pete and Pam Wright
Wrightslaw & The Special Ed Advocate
P. O. Box 1008
Deltaville, VA 23043

Website

Copyright © 2009, Peter W. D. Wright and Pamela Darr Wright. All rights reserved. Please do NOT reprint or host on your web site without explicit permission.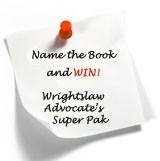 We're excited about the progress on our new series of FAQ books! The first book is in the works.
All About IEPs
Our first FAQ book will feature everything you ever wanted to know about IEPs. OK…maybe not everything, but close. (More Details)
We need a great, descriptive title for this series so we decided to ask our subscribers for help.
The winner of the "Name that Book Contest" will receive a Wrightslaw Advocate's Deluxe Super Pack (Suggested Retail Value $299). (Details below)
---
Our faithful readers have been asking for an FAQ series. You asked, we listened.
Who better to name the book than our subscribers. You ask the questions and you will read our new book for answers. We thank you for helping us name the book.
When suggesting a name, remember, you will be naming the first book in a series. Our first topic is IEPs. Subsequent books will answer questions about Evaluations, Eligibility, Procedural Safeguards, etc.
You are always creative, so we know you'll have suggestions that will grab attention and tell people about what is so important in this book. The title should stimulate interest, engage readers, and surface in online and library searches.
---
Wrightslaw receives hundreds of questions daily. For over 10 years we've been collecting questions from parents, advocates, attorneys, teachers, administrators.
What is…?
How do I…?
What do I do when….?
Suppose this happens…what then?
What are my rights when…?
Do I really need to…?
Who is responsible for…?
Does my child need…?
You'll not only get answers to your frequently asked questions about the IEP process, but an explanation of what the statute and regulations require, practical examples, useful advocacy strategies and tips from expert advocates, plus resource listings for more information.
Need real, understandable solutions for IEP problems and information that will enable you to implement your solutions?
Check the preliminary outline of the Table of Contents for a sneak peek of topics.
---
1. Type your proposed Book Title in the Subject line only of your email - nothing more or less. Type nothing in the body of your email. Emails will not be opened, only the subject line will be considered.
2. Send each Book Title by separate email to (deleted). Note: two or more titles in one email will be discarded.
3. The winner of the "Name that Book Contest" will receive the newly created Wrightslaw Advocate's Deluxe Super Pack. The winner will be announced in The Special Ed Advocate newsletter and on the Wrightslaw Way Blog.
4. In the event of identical titles, the first submission received by Harbor House Law Press will win.
5. The "Name that Book Contest" ends Thursday, March 12 at Midnight (Eastern Time). Our target publication date is Spring 2009.
---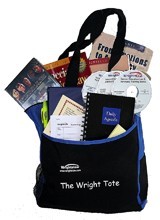 Super advocates get organized with the Advocate's Super Pack.
Carry confidence in The Wright Tote packed with everything you need for your next IEP meeting. The tote with shoulder strap design has a zippered main compartment, front slip pocket, pen & business card pocket, side cell-phone pocket, and mesh water bottle holder.
The perfect size for on the go storage and organization of your child's records, special education file, and IEP notes - all in one place.
This Deluxe Super Pack includes everything below:
Wrightslaw: Special Education Law and Advocacy, 2nd Edition
Wrightslaw: From Emotions to Advocacy, 2nd Edition
Wrightslaw: No Child Left Behind with CD-ROM
Wrightslaw: Surviving Due Process DVD
Wrightslaw Advocacy Training on CD-ROM

Special Education Law & Advocacy, 6.5 hrs
Understanding Your Child's Test Scores, 1.5 hrs
Legal Requirements of IEPs, 1.25 hrs
The Wright Tote IEP Kit
Tote Bag
Pen/Highlighter combo
3 Ring Binder
Sticky Notes
Daily Planner and Journal
#10 Envelopes
Contact Log, and
Recipe Cards for: 1 More Hour of Services Chocolate Chip Cookies & Team Building Truffles
When you take The Wright Tote to the next meeting, you will understand the power of getting organized.
It's in the bag with...The Wright Tote.
Enter NOW to win!
---