In September 2007, we reported on the decision by a federal judge who found Milwaukee Public Schools and the Wisconsin Department of Public Instruction had violated the Child Find provisions in IDEA 2004.
Settlement negotiations have been ongoing since that decision. Why has MPS continued to resist the ruling? Were the facts about evaluations and suspensions incorrect? Apparently not since the Superintendent said the district may have the highest suspension rates in the country.
On June 6, 2008, Judge Goodstein issued another pro-child ruling.
In this issue of the Special Ed Advocate, you can read this potentially historic ruling, learn the settlement details, and get an update in Jamie S. v. MPS.

We've also included some great resources for parents and a free publication especially for Dads.
Please don't hesitate to forward this issue to other families, friends, and colleagues.
---
Jamie S. v. MPS: Facts of the Case
In Child Find, It's Not Optional - It's Mandatory, we reported on the September 11, 2007 decision by Judge Aaron Goodstein, who found that Milwaukee Public Schools and the Wisconsin Department of Public Instruction violated the Child Find provisions in IDEA 2004.
To review the facts in his case, read Judge Orders Sanctions Against School District, Remedies for Kids. You will learn about the details in the case, how it became a class action case, and what happened at trial.
The facts don't lie: 978 past due evaluations, evaluations taking more than 600 days, high rates of suspensions greater than 10 days...and more.
You'll learn that the school district failed to refer children with emotional and behavioral problems for special education evaluations, and were quick to suspend them from school. You'll find out why teachers were reluctant to refer children for special education evaluations.
---
MPS District Report Card: Suspension Rates Could Be the Highest in the Country
Milwaukee Public Schools resisted Judge Goodstein's September ruling, claiming that the system had made improvements since the case was brought in 2001. Patricia Yahle, director of special services for MPS, said that Judge Goodstein's decision was based on events through 2005 - and that things had improved.
Cold Hard Numbers

Data released for the 2006-2007 school year paints a different picture. Nearly 10 percent of 1st graders were suspended at least once during the 2006-2007 school year. Suspensions increased in each grade, peaking in 9th grade when nearly 50 percent of students were suspended at least once during the school year.

Superintendent Andrekopoulos said, "The suspension data is terrible." He acknowledged that MPS may have the highest suspension rates in the country. He acknowledged, "We're doing a lousy job of sending kids out of the classroom."
This data makes you wonder how many of those suspended were kids who needed special education services but were never evaluated or identified. What are the true dropout rates in this district?
Go to Judge Orders Sanctions Against Schools, Remedies for Kids to read the case updates. Read the news reports and the data from the District Report Card.
---
A settlement with the Wisconsin Department of Public Instruction was reached in February 2008. Read the Settlement Agreement.
Milwaukee Public Schools rejected the settlement. Read the letter from an attorney for MPS rejecting the settlement and expressing "disappointment" that the DPI agreed to the settlement "because it strains the important partnership the state must have with its largest school district." As this letter makes clear, there are other reasons why MPS did not wish to comply with the settlement.
On June 6, 2008, Judge Goodstein ruled "full-force in favor of potentially historic changes that would require Milwaukee Public Schools to provide more services sooner to thousands of struggling students."
Judge Goodstein "came down on every point in favor of the position of the plaintiffs." Read the decision.
To find how MPS reacted to the judge's decision, the settlement with DPI, and the trial scheduled to begin on November 3, 2008, please continue to check the Jamie S. Case Update page at Wrightslaw.
---
A father's journey...
"John sat on the couch in my office. His face reddened and his fists clenched as he talked about his son Chris and his contacts with the teachers and administrators at Chris's school:

'My son is 13 years old and he still can't add simple numbers. He can't add 15 and 9. He can't read either, and he's been in special ed since he was six years old.'"
In From Emotions to Advocacy: The Parents' Journey, you'll learn about this father's frustrations and fears and the concerns of many other parents. You will also find help. You'll learn about your emotions and how to use these emotions as a source of energy and strength.
Learn how to overcome the roadblocks on your advocacy journey. Transform your emotions from your worst enemy into your greatest ally. Read "The Parents' Journey."
back to the top
---
Free Pub: Fathers of Kids with LD
"Fathers play a special role in the lives of their children. In this guide, we offer information and support for the added responsibilities dads encounter in parenting a child with learning or attention problems."
Download this free pub from Great Schools, a site that features content originally published on Schwab Learning.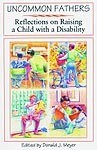 Uncommon Fathers: Reflections on Raising a Child with a Disability.
A book written for fathers by fathers.
Fathers talk about how they coped with having a special child. They express how the birth and life of a child with special needs changes your life. Stories about obstacles overcome and quiet courage.
back to the top
---