The IEP has been called the "centerpiece" of the special education law. As a parent, you are the expert on your child and you have a unique role to play in the IEP process.
This series, A Closer Look at IEPs, featured:
In this issue of the Special Ed Advocate, you'll find information and advice about getting exactly what you need in your child's IEP:
transition services
extended school year (ESY) services
paraprofessionals
what happens when your child changes schools
You are Invited ... to visit the new Wrightslaw Way Blog. Help us create a unique, helpful online community.

Don't hesitate to forward this issue to other families, friends, and colleagues.
---
Transition Planning and Your Child's IEP
Will your child transition next year?
As a parent, you have probably been thinking about your child's future for years. Schools are not required to address the future until your child is older, but they must have a transition plan in place before your child turns 16.
Does your child's IEP have appropriate transition goals? Has your child made measurable progress toward these goals? How do you know?
IDEA 2004 requires Transition Services to be "results-oriented" to "facilitate the child's movement from school to post school activities . . ." The law requires that Transition Services in the IEP be in place by (before) the child's 16th birthday.
To find out what IDEA 2004 requires, read Transition Planning: Setting Lifelong Goals.
IEPs must adhere to these requirements. In this transition article, you'll find these two useful checklists:
IDEA 2004 Transition Checklist
Transition Planning Checklist
Read Transition Planning: Setting Lifelong Goals, print and use the checklists, and find more resources about what parents and students must do to prepare for life after school.
---
How I Got ESY Services After the School Said "No"!
Has the IEP team already taken the position that your child does not need ESY services?
Here's a success story about how one parent used the Columbo Strategy to give the team a way to change their position.
To learn what the Columbo Strategy is and how to use it, read How I Got ESY Services After the School Said No.
In this success story, at the IEP meeting, the team mentioned one criteria for ESY - "regression-recoupment." Period. No other options were mentioned. When they handed the parent a paper to sign, she was not prepared to sign it.
Learn the steps she took and what happened at the next meeting that caused the IEP team to change their position and provide the ESY services her child needed.
Find more resources and cases about Extended School Year.
---
Will you be moving and transferring schools this summer? What will happen to your child's IEP when you change school districts?
The new school district must provide services that are comparable to the services in the previous IEP.
Read what IDEA 2004 says about Changing Schools and IEPs and the transfer of records.
Don't let personnel at the new school drag their feet about providing services. There is no provision in the law to wait one day, one week, one month or 90 days to provide services.
Read this article to find out exactly what the law says about services to students who transfer. Learn how you can use the Commentary to the Regulations to see what the Department of Education says about the regulations and IDEA 2004.

---
A mother asks for advice after her child's teacher says, I Don't Care if He Has an IEP.
"Can I ask for a paraprofessional? I've heard there are other kids with ADHD in the class too. And even though two teachers for 30 plus kids should be fine, I think there are other children who could use the help."
Sue Whitney Heath, who writes about reading, research based instruction, and creative advocacy strategies in Doing Your Homework, offers advice to this parent.
Read this article before you ask for a paraprofessional.

Then, even if you want a paraprofessional, don't ask for one.

Instead, focus on the goals and accommodations in the IEP.
In Teacher Says, "I Don't Care if He Has an IEP," read Sue's excellent advice to this mom about what to request for her child.
back to the top
---
The Wrightslaw Way: A Special Online Community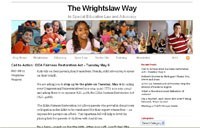 The Wrightslaw Way to Special Education Law and Advocacy is new and different.

When we post articles and requests for information or help, visitors offer advice and answers.

Read new posts about how to create SMART IEP goals for behavior problems, pros and cons of virtual schools, Pete's answer to a question about providing an independent evaluation to the school, and much more.

Learn how to post a question or a comment.

Visit the new Wrightslaw Way blog. Help create a special online community. If you were not one of more than 10,000 people who visited the Wrightslaw Way last week, check it out today!

back to the top
---