Autism is a neurological disorder that includes impairments in communication, social relationships, and behavior.

As new reports about dramatic increases in the number of children diagnosed with autism are issued, we want to bring you up to date on issues about educating and advocating for children with autism.

If you are a parent, you need to educate yourself about your child's disability, effective educational methods and medical treatments. You also need to learn how to present your child's problems and needs to school staff so they want to help.

Thanks,
Pamela Wright, Editor

P.S. Will you do us a favor? Use the "Forward to a Friend" link at the bottom of this e-mail so a friend can get acquainted with The Special Ed Advocate? This beats forwarding your own copy -- which may cause your subscription to be unsubscribed if your friend clicks the wrong link. :-)

Link to this Issue. Sign up free today
In This Issue:
---
Autism Epidemic Rages On
According to autism advocate Rick Rollens, the autism epidemic continues to rage on, with no end in sight.

The California Department of Developmental Services (DDS) reports that during the first 3 months of 2007, 886 children were diagnosed with DSM IV autism. Of 1,570 intakes, 886 (56%) were new autism cases. This represents the second highest number of new autism cases in the 38 year history of the California Department of Developmental Services.

Note: This does not include children diagnosed with PDD, NOS, Asperger's Syndrome or other autism spectrum disorders.

In the 16 years between 1971 through 1987, California had a caseload of approximately 2,700 persons with autism. During the past nine months, from July 2006 to April 2007, California added roughly 2,700 new cases of autism.

Twenty years ago, 2,700 persons with autism were in the system. Today, nearly 34,000 persons with autism are in the system. Here are some facts about these individuals:
92% were born after 1980
84% are under age 21
78% are under age 18
Interested in learning more about Autism, Autism Spectrum Disorder (ASD), Pervasive Developmental Disorder (PDD), Asperger Syndrome (AS)?

Our Autism page includes FAQs, articles, cases, recommended publications, newsletters, free resources, and organizations that can help.
---
Intensive Early Intervention Essential for Children with Autism
Autism is a developmental disorder that affects the child's ability to communicate ideas and feelings, use imagination, and establish relationships with others. No single known cause has been identified. Currently there is no cure.

All available research strongly suggests that intensive early intervention makes a critical difference to children with autistic spectrum disorders. Without early identification and diagnosis, children with autism do not learn the skills they need to benefit from education.

The National Research Council analyzed intervention models for young children with autistic disorders and concluded that intensive early intervention "makes a clinically significant difference for many children. Children who had early intervention had better outcomes." (2 pages)

Educating Children with Autism by National Academy Press (2001).

Although education is the primary form of treatment for autism, educators are often poorly equipped to deal with these children. Educating Children with Autism describes effective educational practices, programs, and strategies. Learn:
How children's specific diagnoses should affect educational assessment and planning
How to support the families of children with autism
Features of effective instructional and comprehensive programs and strategies
How to prepare teachers, school staffs, professionals, & parents to educate autistic children.
---
Special Education Cases: Autism
In Autism Caselaw, you'll find links to several important decisions about educating children with autism. The issues in these cases include what constitutes a free appropriate public education (FAPE) for children with autism, ABA/Lovaas therapy, extended school year (ESY), and LRE/inclusion.

School Bd of Henrico County VA v. Z.P (4th Cir. 2005)

Parents of young child with autism rejected typical generic preschool program and requested tuition reimbursement for private program that utilizes one-on-one ABA therapy. Issues include deference to hearing officer as factfinder and deference to opinions of professional public school educators.
L.B. and J.B. ex rel. K.B. v. Nebo UT Sch. District (10th Cir. 2004)

Parents of child with autism reimbursed for ABA/Lovaas therapy and private preschool that was LRE for child; educational benefit; impartiality of hearing officer.
T. H. v. Bd. Ed. Palatine IL (N. D. IL 1999)

Powerful well-written decision in ABA-Lovaas case; discusses methodology, IEP development process; IEP goals and objectives, individualization, educational benefit, unilateral placement by parents, reimbursement, standard of review. (pdf)

For more cases about autism, please visit the Special Education Caselaw Library.
---
Highly Recommended: My Brother Has Autism by Melody Igafo-Te'o

When a family includes a child with autism, parents are often absorbed in meeting this child's needs, and have less time and attention available for their other children.

Sometimes, siblings feel sad or resentful. They may also feel pride and joy.



In My Brother Has Autism, Melody Igafo-Te'o describes experiences with her brother Michael who has autism. You may be surprised when you discover how Melody sees her brother.
My Brother Has Autism is useful to therapists, teachers, parents, and others who work with siblings of children with autism. As children read and discuss this book, they begin to recognize things they have in common with their sibling - and discover positive qualities about their brothers and sisters with autism.

Download My Brother Has Autism by Melody Igafo-Te'o (22 pages, illustrated)

We thank Melody for making this book available. She is a gifted, insightful writer. We hope she will write more books in the future.
---
Free Pubs & Resources about Autism
One obstacle in advocating for a child with a disability is finding the time to do research. We spend hours collecting information so you can spend your time learning, not searching.

When you visit our Free Pubs page, you'll find high-quality free publications about autism, child mental health, special education, transition, reading, behavior, IEPs, discipline, high-stakes testing, retention, No Child Left Behind, and more. We are continually adding new publications, so the contents of the Free Pubs page changes often.

Here is a short list of free publications about educating children with autism.

Centre of Excellence for Early Childhood Development's Encyclopedia on Early Childhood Development: Autism
This 40 page document includes a synthesis of autism, the impact of autism on child development and the impact of early intervention.

Special Education: Children with Autism
The Government Accountability Office published this report to answers questions submitted by Congress about special education for children with autism.

Autistic Spectrum Disorders: Best Practice Guidelines for Screening, Diagnosis and Assessment
This publication provides professionals, policymakers, parents and others with detailed "best practice" recommendations and rationale for screening, evaluating and assessing individuals suspected of having autistic spectrum disorders. These guidelines are the product of nearly a year's work by experts in the field of autistic spectrum disorders and are based on validated scientific evidence, clinical experience and clinical judgment.

Autism 101: Free Online Course from the Autism Society of America
This online course takes approximately 30 minutes to complete. The course includes: Introduction to Autism Spectrum Disorders, Treatment Options, Treatment Assistance, Transition to Adulthood, and More Information and Resources. After you complete the course, you can download a certificate of completion.

More Free Pubs & Resources.
---
Recommended Resource: Schafer Autism Report
If you are interested in Autism and Autism Spectrum Disorders, we encourage you to subscribe to the Schafer Autism Report. SAR monitors major news sources, websites, and the latest scientific research for practical news and developments, with a balanced, no-spin presentation.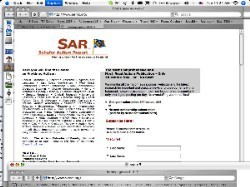 Learn more about the Schafer Autism Report. You may subscribe by filling in the form on the website.
---
Last Week's Poll Results: School Safety
Last week, we asked: Do you worry about your child's safety at school?

Of the 721 responses, 82% of respondents were often or sometimes worried about their child's safety, while 18% indicated that they rarely or never worried.
---
Special Education Law & Advocacy Training
We are scheduling programs for 2007 and 2008. If you are interested in bringing a Wrightslaw program to your community, please read our Conference Information page.

Upcoming programs are listed on the left top side of this newsletter. You can also check the schedule to see where Wrightslaw programs are being held.