Response to Intervention (RTI) is a hot button issue in special education. How do we know? Data!
Our RTI Information Page has been the top-ranked page on Wrightslaw, edging out information pages about IEPs, Section 504, and IDEA 2004 for more than a year.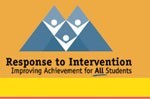 When Congress reauthorized IDEA, they changed the law about how to identify children with specific learning disabilities.
These changes in the evaluation and eligibility process are significant. Change creates anxiety, especially if you didn't ask for it and don't know how it will affect you.

"It's not that we're afraid of change or in love with the old ways, but it's that place in between that we fear ... It's like being between trapezes. It's Linus when his blanket is in the dryer. There's nothing to hold on to." - Marilyn Ferguson, author & poet

School psychologists ask, "If schools don't have to perform comprehensive evaluations before finding kids eligble for special ed, will I be out of a job?"

Teachers ask, "Will I be able to get help for my struggling students quickly, without going through the insane evaluation and eligibility process?"

Parents ask, "Does this mean that my child will finally get help?"
You'll find answers to your questions about RTI and how it is likely to affect you (and your child) by reading the articles and publications on our RTI Information Page. As we collected these articles and free pubs, we found that some experts endorse RTI, while others are less enthusiastic.

This issue of the Special Ed Advocate includes a new article, Response to Intervention: Guidelines for Parents and Practitioners by Dr. James Hale.
Don't hesitate to forward this issue to other families, friends, and colleagues.
---
Specific Learning Disabilities: Discrepancy & Response to Intervention (RTI) Models
Until Congress reauthorized IDEA in 2004, struggling children who needed help did not receive services prompty. Many had to "wait and fail" before receiving an evaluation. This led Congress to change the requirements for evaluating children who may have specific learning disabilities.

Schools "shall not be required to take into consideration whether a child has a severe discrepancy between achievement and intellectual ability ... [but] may use a process that determines if the child responds to scientific, research-based intervenion as part of the evaluation procedures ... " (Section 1414(b)(6) (Wrightslaw: Special Education Law, 2nd Edition, page 97)
This scientific, research-based intervention process is called Response to Intervention.

What is Response to Intervention? How will these new practices affect struggling children who have not been identified with specific learning disabilities? How will this affect the millions of children who have been identified with specific learning disabilities and who are receiving special education services? How will this affect you?

The devil is in the details. The success of Response to Intervention (RTI) will depend on whether it is appropriately implemented by highly-trained professionals - and this is likely to be a problem.

To learn why, read What You Need to Know About IDEA 2004: Specific Learning Disabilities - Discrepancy & Response to Intervention Models.


---
RTI: Guidelines for Parents & Practitioners by James Hale, Ph.D.
Dr. Hale begins Response to Intervention: Guidelines for Parents and Practitioners by saying, "The field of education is never a dull place ... Over and over again, we see people get very excited about the latest ideas, buzzwords, and cure-alls for the education system." He encourages us to resist the urge to jump on the latest bandwagon.

Hale, Associate Professor of School Psychology, describes another new buzzword. "Response to Intervention." In RtI: Guidelines for Parents and Practitioners, he explains what RTI is, what it means for helping children learn, and how it can be used to identify children with specific learning disabilities.

Fixing a Broken System

Hale writes, "In the old system, there was regular education for 'typical' children and a separate special education for children with disabilities. Special education became a 'place,' not a service, and too many children in special education continued to struggle."

"Under the old system, children who struggled had to be labeled first with a disability. Many were labeled as having a specific learning disability (SLD) .... research challenged this method ... many children were identified but an insufficient number were getting special education."

A Solution? The Rise of RtI

RtI typically includes three or four 'tiers' of instruction. According to Hale, "The basic ideas of RtI were developed over a century ago ... You collect data over time and adjust instruction until the child achieves success."
A teacher modifies instruction (intervention)
The child's progress is checked often (progress monitoring)
If the intervention works, the problem is solved
If the intervention does not work, you change the intervention and monitor progress.
Hale describes the Concordance-Discordance Model of SLD Determination. A child is evaluated and cognitive strengths and cognitive weaknesses are identified. This model uses cognitive and neuropsychological measures in a comprehensive evaluation.

Limitations of RTI

Dr. Hale acknowledges that RtI is limited by difficulty of establishing the criteria for the "scientific research based interventions" mandated by IDEA 2004 (20 USC 1414(b)(6)).

He also cites a lack of mutually agreed upon instructional methods and strategies for different academic subjects and in different grades. "Teachers may not be adequately trained to teach and may not have the knowledge and skills to use scientifically based instructional practices and assessments." Read more.
Response to Intervention: Guidelines for Parents and Practitioners by James B. Hale, Ph.D.is available as a printer-friendly PDF document and in html:
PDF: https://www.wrightslaw.com/idea/art/rti.hale.pdf
---
Defining and Identifying Learning Disabilities
In Alternative Approaches to the Definition and Identification of Learning Disabilities: Questions and Answers, Fletcher, Coulter, Reschly & Vaughn explain why adequate instruction for students with LD, identification must focus on assessments that are directly related to instruction.

Services for struggling students must focus on intervention, not eligibility. Special education must focus on results and outcomes, not eligibility and process.

Identification models that include RTI will lead to better achievement and behavior outcomes for students with LD and those at risk for LD.
Learn more about Response to Intervention (RTI).
---