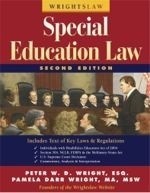 Special Education Law - PDF Combo
$44.95
Wrightslaw: Special Education Law, 2nd Edition, Print and E-Book includes:
* Full text of the Individuals with Disabilities Education Act (IDEA 2004) and IDEA 2004 Regulations
* Section 504 of the Rehabilitation Act
* No Child Left Behind
* Family Educational Privacy Act (FERPA)
* McKinney-Vento Homeless Assistance Act
* Decisions in special education cases from the U. S. Supreme Court
* Analysis and Commentary
*Resources and References
Wrightslaw Special Education Lawis an invaluable resource that provides a clear roadmap to the laws. You will refer to this book again and again. Learn what the law says about:
* Child's Right to a Free, Appropriate Public Education (FAPE)
* Individualized Education Programs, IEP Teams, Transition & Progress
* Evaluations, Reevaluations, Consent & Independent Educational Evaluations
* Eligibility & Placement Decisions
* Least Restrictive Environment, Mainstreaming & Inclusion
* Research Based Instruction, Discrepancy Formulas & Response to Intervention
* Discipline, Suspensions & Expulsions
* Safeguards, Mediation, Confidentiality, New Procedures & Timelines for Due Process Hearings
The E-book includes bookmarks and page thumbnails so you can move easily between chapters and pages. You can search the entire book for specific terms or topics in seconds.
When you purchase the Print & E-book Combo online, you will receive a receipt by email that includes a download link. When you click the link, the book file (3.7 mgs) will be downloaded onto your computer. Depending on your connection speed, this may take a few minutes.
NOTE: If you purchase more than one copy of Wrightslaw: Special Education Law, 2nd Edition Print & E-Book Combo, be sure to provide all email addresses in the comment section.
[Order]
[Checkout]