Suzanne Whitney
Bio l Upcoming Programs l Recent Programs l Contact Info
Suzanne Whitney of Merrimack, New Hampshire, is the Research Editor for Wrightslaw and the co-author, with Pam and Pete Wright, of Wrightslaw: No Child Left Behind.

Sue writes about creative advocacy strategies in her column, Doing Your Homework, which appears in The Special Ed Advocate Newsletter and on Wrightslaw.com. Her articles include:
Her articles have been reprinted by SchwabLearning.org, EducationNews.org, Bridges4Kids.org, The Beacon: Journal of Special Education Law and Practice, the Schafer Autism Report, and have been used in CLE presentations to attorneys.

Sue has served on New Hampshire's Special Education State Advisory Committee on the Education of Students/Children with Disabilities (SAC) and has been avolunteer educational surrogate parent. She currently works with families as a special education advocate.
Sue has spoken to groups of parents, advocates, and educators about No Child Left Behind, reading, research based instruction and strategies for using federal education standards to advocate for children and to improve public schools.
Recent Presentations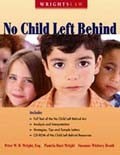 Research Based Reading Instruction in a World of No Child Left Behind
Sue Heath and Elaine Holden of The Reading Foundation presented at the 2005 CEC Convention and Expo in Baltimore, MD. (April 2005)

Overview of No Child Left Behind sponsored by Massachusetts Families Organizing for Change in Melrose, MA. (February 2005)

Using No Child Left Behind for Children with Learning Disabilities at the 55th Annual Conference of the International Dyslexia Association, Philadelphia, PA. (November 2004)

Symposium on Educating At-Risk Children, David A. Clarke School of Law, University of the District of Columbia. (October 2004)

Litigation and Advocacy Using No Child Left Behind with Bill Byrne, Esq., at the 6th Annual Conference of the Council of Parent Advocates and Attorneys, San Francisco, CA (March 2004)

Contact Info

If you would like a conference presentation by Sue, please contact her by email and send a copy of your email to Pete Wright at petewright | at | harborhouselaw.com and, in your subject line, ALL CAPS, please put the following:

CONFERENCE YOURSTATE YOURCITY - desired dates. Example -
CONFERENCE VIRGINIA DELTAVILLE - any date in 2011

Sue can work out the dates with you and, once determined, Pete will prepare a contract letter that will outline the nature of the agreement.


---