IDEA 2004 & No Child Left Behind Training
St. Clairsville, Ohio on September 16, 2005
The IDEA 2004 & NCLB Training program by Wayne Steedman is cosponsored by the Augusta Levy Learning Center and the Bethany College Education Program.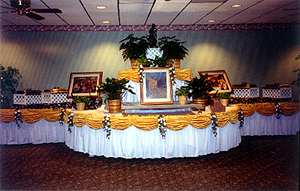 The seminar will be held at:
Hampton Inn in St. Clairsville
51130 National Road
St. Clairsville, OH 43950
(740) 695-3961
Note: The program will be held at the Hampton Inn in St. Clairsville, OH (I-70, Exit 218 Mall Road). This location is conveniently located 10 minutes from Wheeling, WV, 1 hour from Pittsburgh, PA (Pittsburgh International airport) and 1 hour, 45 minutes from Columbus, OH.
Wrightslaw: IDEA 2004 & NCLB is a 6 hour program about key provisions of IDEA 2004 and the No Child Left Behind Act.
You will learn about changes in IDEA 2004, including new legal requirements for initial evaluations and reevaluations, parental consent, IEP goals, IEP teams, and how eligibility requirements changed for students with specific learning disabilities. You will learn about new procedural requirements and timelines, including the "Due Process Complaint Notice" and "Resolution (IEP) Session." You will also learn about NCLB requirements relating to research based instruction, highly qualified teachers, new options for students who attend struggling schools, how NCLB applies to children with disabilities.
Download agenda.

and Schaffer v. Weast, the "burden of proof" case that may shift the balance of power in IEP meetings and due process hearings. Download agenda.

Registration

Your registration fee includes the course book, Wrightslaw: IDEA 2004 (retail value: $14.95), continental breakfast, and lunch. You will also receive a complimentary copy of 10 Tips: How to Use IDEA 2004 to Improve Education for Children with Disabilities by Wayne Steedman, Esq.

Fees

Parents, educators, administrators, advocates, attorneys: $55.
Students: $40.

Please download and print the conference brochure and registration form.

Help Get the Word Out!

If you know others who may be interested in attending this Wrightslaw IDEA 2004 & NCLB program, please send them a copy of the conference brochure or the link to the conference information page on Wrightslaw.

Post the conference brochure at school or work. Send a copy to a friend or your favorite teacher. Send the link to the conference information page to friends and listserv members who live in the West Virginia-Ohio-Pennsylvania area.
Download the conference brochure: http://www.wrightslaw.com/flyers/05.09.oh.pdf
Note: CEUs and CLEs are pending.

Questions?
Call Kathy Fuller at (304) 242-6722.
Transportation, Logistics, Directions

Free parking will be available at the conference location.

To get directions to the conference site, visit mapquest.com. Enter your location and Undo's Hampton Inn, 51130 National Road, St. Clairsville, OH 43950.
Accommodations & Dining
The Hampton Inn has a unusual multilevel lobby where you can see a beautiful panoramic view of the surrounding countryside. If you plan to spend the night or eat out, these lists of local accommodations and restaurants will help you plan your visit.

Accommodations
Days Inn West, 52601 Holiday Dr., 1-70 Exit 220, St. Clairsville, OH, (740) 695-0100
Hampton Inn, 51130 National Rd 5, St. Clairsville, OH, (740) 695-3961
Holiday Inn Express, 51654 National Rd, St. Clairsville, OH, (740) 699-0010
Best Value Inn, 51260 National Rd, 1-70 Exit 218, St. Clairsville, OH, (740) 695-5038
Econo Lodge, 51659 National Rd, 1-70 Exit 220, St. Clairsville, OH, (740) 526-0128
Red Roof Inn, 1-70 & Mall Rd, St. Clairsville, OH, (740) 695-4057
Hampton Inn, 795 National Rd., Wheeling, WV, (304) 233-0440
Holiday Inn Express, 1-70 Ease - Exit 11, Wheeling, WV, (800) 465-4329
Ramada Plaza, 1200 Market St., Wheeling, WV, (304) 232-0300
Super 8, 2400 National Rd., Wheeling, WV, (304) 243-9400
Days Inn, 1-70 East & Dallas Pike, Wheeling, WV (304) 547-0610

Applebee's, 50655 Valley Frontage Rd., St. Clairsville, OH, (740) 695-8440
Cracker Barrel, 67781 Mall Rd., St. Clairsville, OH, (740) 699-2662
Bob Evans, Ohio Valley Mall, St. Clairsville, OH, (740) 695-3900
Longhorn's, 68040 Mall Ring Rd, St. Clairsville, OH, (740) 699-4722
Mehlman's, National Rd., St. Clairsville, OH, (740) 695-1000
Outback, 50575 Valley Frontage, Rd., St. Clairsville, OH, (740) 699-0737
Red Lobster, 50740 Valley Center, St. Clairsville, OH, (740) 699-0344
Undo's, 51130 National Rd., St. Clairsville, OH, (740) 695-8888
Abbey's, Wheeling Island, Wheeling, WV, (304) 233-0729
River City Ale Works, 1400 Main St., Wheeling, WV, (304) 233-4555
Bella Via, 1 Burkham Ct., Wheeling, WV, (304) 232-2888
Golden Chopsticks, 329 N. York St, Wheeling, WV, (304) 232-3694
Uncle Pete's, 753 Main St., Wheeling, WV, (304) 234-6701
Pastime Tavern & Grill, 223 N. Lincoln Ave., Bridgeport, OH (740) 633-3083
TJ's Sports Garden, 808 National Rd., Wheeling, WV, (304) 232-9555
Perkins, 680 National Rd., Wheeling, WV, (304) 232-5772
Ohio, Pennsylvania, and West Virginia Yellow Pages for Kids with Disabilities
We built the Yellow Pages for Kids with Disabilities so people can get reliable information and support. The Ohio, Pennsylvania, and West Virginia Yellow Pages for Kids have many helpful resources - evaluators, educational consultants, academic tutors, support groups, grassroots organizations, advocates, attorneys and others who help parents get services for their children.

If you provide a service, please sign up to be listed on the Yellow Pages for Kids with Disabilities - this is a free service from Wrightslaw.

To top
Back to Wrightslaw Schedule Page
---