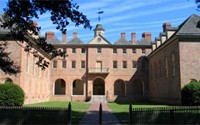 Help kick-off William and Mary's new PELE Program!

You're invited! Join national experts Pete and Pam Wright for a Wrightslaw Special Education Law and Advocacy Conference. William & Mary Law School is sponsoring a fundraiser for the Parents Engaged for Learning Equality (PELE) program.
Exhibitors Welcome! Exhibitor/Vendor space is available for $150.00 on a first-come, first-serve basis. Please contact Debra Pratt by email, or by phone at 877-529-4332. She will be happy to hold a space for you.
New Decisions

You'll learn about the unanimous decision issued by the U.S. Supreme Court last week in the sexual harassment case of a young student by an older classmate under Title IX and Section 1983. You'll also learn about two new education cases that were just added to the Court's docket this year. Learn more about this program l Register now
Co-sponsored by the Virginia Trial Lawyers Association, the Legal Aid Society of Eastern Virginia, and the Peninsula Autism Society.
Parents, attorneys, and advocates will also learn:

Changes in IDEA 2004
IEP and Eligibility Issues
Evaluations, reevals, parental consent
Tests & Measurements
SMART IEPs
Requirements in No Child Left Behind

Find all the details here.
Wrightslaw programs often fill up early - don't miss out! Register today!
What People Are Saying About Wrightslaw Conferences
"What a marvelous conference! I often leave sped presentations angry and/or guilty because of all the things that were done or not done. This time I left encouraged, inspired and armed!" - Melissa, advocate from Maryland