Are you following the investigation in Texas, where unelected state officials devised a system that kept thousands of disabled kids out of special education?
This 2004 "monitoring system" is under investigation by the Houston Chronicle and state bureau reporter Brian M. Rosenthal, who is passionate about covering vulnerable people and the ways in which they are affected by their government.
Keep up with series, track your district, or share your story at The Houston Chronicle.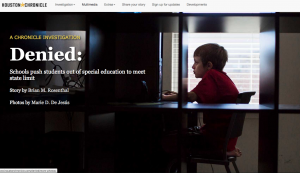 Denied: Part 1: How Texas Keeps Tens of Thousands of Kids Out of Special Ed
http://www.houstonchronicle.com/denied/1/
Schools Push Students Out of Special Education to Meet State Limit
http://www.houstonchronicle.com/denied/
Official fights to restore special ed for autistic son
http://www.houstonchronicle.com/denied/extra/
How we know the reason for the drop in Texas special ed students
http://www.houstonchronicle.com/denied/beyond-the-data/
Search your school district: See how the percentage of kids receiving special ed services has changed in your area.
http://www.houstonchronicle.com/denied/visualizations/
Share your story: Help the Chronicle investigate.
http://www.houstonchronicle.com/denied/tell-your-story/
Feds Order Texas to comply with Special ed Laws
http://www.chron.com/news/houston-texas/texas/article/Feds-order-Texas-to-eliminate-special-ed-caps-9648347.php
Straus: 'Students who need special education should not be kept out of it' – House speaker vows to take action after Chronicle report on special ed
http://www.chron.com/news/politics/texas/article/Straus-Students-who-need-special-education-9225939.php
How Texas Shortchanged Students With Disabilities – Education Writers Association radio interview with Chronicle reporter Brian Rosenthal who talks with EWA public editor Emily Richmond about crunching the numbers, how this has impacted students and families, and what's next in his reporting.
http://www.ewa.org/ewa-radio/how-texas-shortchanged-students-disabilities
October 3, 2016: US Department of Education, Office of Special Education and Rehabilitative Services (OSERS) Letter to Morath, Commissioner TEA
https://www.scribd.com/document/326304343/U-S-Department-of-Education-letter-about-Texas-special-education-enrollment-target