The Special Ed Advocate Archives
(1998-present)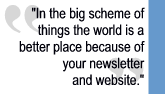 The Special Ed Advocate is a free online newsletter about special education legal and advocacy topics.
Subscribers learn about new cases, articles, seminars and training, special offers on books, CDs, and multi-media training by Pete & Pam Wright, and other useful information about special education law and advocacy.
The Special Ed Advocate Archives contain all issues of the Special Ed Advocate newsletter published since 1998. To review all topics covered in newsletters, please check the index pages for each year (links below).
If you would like to have The Special Ed Advocate delivered to your inbox weekly - Subscribe Now!
http://www.wrightslaw.com/subscribe.htm